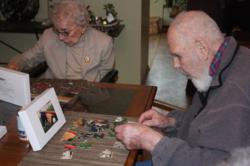 The MindStart Approach: Routine...Reduce...Reassure
Minneapolis, MN (PRWEB) July 24, 2012
There are 5.4 million Americans living with Alzheimer's disease or other forms of dementia according to the Alzheimer's Association 2012 Facts and Figures; 80% of these people live at home. Of the challenges caregivers face, one is keeping the person with dementia active. A survey administered by the National Alliance for Caregiving showed that caregivers are looking for ideas for easy activities they can do with their loved one in spite of the cognitive impairment. To help caregivers, the Alzheimer activity design company, MindStart, reveals its 3 R's approach to keeping people with dementia active.
To keep their approach simple and easy to remember, MindStart used the abbreviation of the 3 R's of education – Reading, 'Riting, and 'Rithmetic, but replaced them with Routine, Reduce, and Reassurance.
Routine
Individuals with dementia do best with routine. MindStart founder and occupational therapist, Monica Heltemes explains, "People with dementia have difficulty knowing what time of day it is or knowing what activities should come first, second, etc. They do not easily adapt to changes or surprises. So keeping the same routine of activities each day helps them to orient to the time of day and what will be happening. For example, a morning routine might include coffee, reading the paper, eating breakfast, then feeding the dog."
Reduce
Persons with dementia have impairments in brain functioning. To compensate for the impairments, it is helpful to reduce or simplify activities. This includes reducing the number of steps of the task; reducing the complexity of the directions given for the task; and reducing the level of abstractness of the task. To make this process easier for caregivers, MindStart offers dementia activities that are already simplified, such as their large piece puzzles. They are appropriate for various stages of dementia yet remain dignified in appearance and content. MindStart products were proven to be easier to complete per a research study completed at the University of Minnesota. Results showed that the MindStart products could be used more independently by the person with dementia with less caregiver oversight.
Reassurance
People with dementia experience inertia, or increased inactivity, as the disease progresses. They may be reluctant to do things when asked. This may be due to fear of failure, embarrassment, frustration, or confusion about what is being asked of them. Monica coaches caregivers that a more reassuring way to ask the person to do something is to ask for their help. By nature, most people are willing to help and like to be productive. More reassurance, in the form of encouragement, can be given, such as "You are doing great! Thanks for your help!"
According to a 2012 Cochrane Review of dementia research studies, the cognitive stimulation that occurs while doing activities provides a beneficial effect on the memory and thinking test scores of people with dementia. This was a benefit that was at least as good as medications, if not more so. MindStart's 3 R's approach to engaging people with dementia in activity, along with their proven activity products, gives caregivers tools that they can use to make a difference in the lives of the people they care for.
MindStart is a small, family owned business, started by an occupational therapist to provide Alzheimer and dementia activity products while providing support and education for caregivers. MindStart works with dementia care experts and USA companies to design and manufacture adapted, yet dignified, activity products that are based on common hobbies and themes of everyday life and that provide cognitive stimulation for every stage of the dementia disease process.