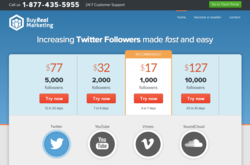 We know that delivering quick Twitter followers will spark unwanted attention to our clients' follower base that could lead people to question their credibility rather than boosting it
Ottawa, ON (PRWEB) July 24, 2012
Recent updates on the upcoming Presidential election reveal candidate Mitt Romney racking up more than 135,000 Twitter followers in a matter of two days. 140elect.com, a Twitter Political Consulting website that tracks political candidates' Twitter presence, reports that Romney's Twitter follower count rose Friday, July 20, 2012, 5PM EST, garnering around 23,926 new followers and 750,000 more on Saturday, July 21, 2012.
Amidst this latest controversy of buying Twitter followers, Buy Real Marketing has taken a stronger hold in the market offering quality and reliable Twitter follower packages that suddenly rose in sales following Presidential candidate Mitt Romney's alleged attempt at growing his follower base.
"Unlike the service provider which Mitt Romney's team allegedly trusted to bring in a large following in careless and abrupt manner, Buy Real Marketing is the most trusted place to buy Twitter followers, as we make sure those real followers are delivered in increments and not by bulk, which looks totally unnatural" explains Buy Real Marketing, Business Development - Managing Director, Jonathan Kennedy.
When visiting the subpage http://www.buyrealmarketing.com/buy-twitter-followers, clients will see several packages with emphasis on delivery schedules per package. The biggest package offers 10,000 Twitter followers delivered 20-30 days upon purchase. Calculating Mitt Romney's weekend acquisition of 135,000 new Twitter followers, it would take 405 days or approximately thirteen months for Buy Real Marketing to deliver Twitter followers of that scale.
The rapid and unnatural growth of Mitt Romney's Twitter followers, gives Buy Real Marketing the leverage to reinforce its strict adherence to safeguarding clients' interest."We know that delivering quick Twitter followers will spark unwanted attention to our clients' follower base that could lead people to question their credibility rather than boosting it. So, no matter the demand for quick delivery for our biggest package, Buy Real Marketing did not relent for the same reason that the Presidential candidate is currently suffering," says Buy Real Marketing, Managing Director, JP Bisson.
Buy Real Marketing is the leading provider of Twitter followers, YouTube views, SoundCloud plays and Vimeo views. To learn more of the company's services visit their website at http://www.buyrealmarketing.com/ or contact them at 1-877-435-5955.
About
Buy Real Marketing is owned by Clicking Labs. Clicking Labs is a well established internet marketing company founded in 2010 by Jean-Patrick Bisson, Diana Quartin and Jonathan Kennedy. The company specializes in driving search marketing and social media traffic, social web app development and conversion optimization. Each product or service specifically helps small/medium website owners increase online visibility and improve online sales.
###