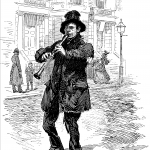 "Beautiful Bad Girl, the Vicki Morgan Story is a wild ride depicting the sexual demons of the rich and powerful," said MJHammond. "Nobody would ever believe it. But truth is often stranger than fiction. And this story is true."
Los Angeles, CA (PRWEB) July 24, 2012
Minstrel's Alley announced it was reducing the prices of its eBooks through the end of the summer in order to encourage readers to try a book from this quirky, independent publisher. Prices will be reduced on the bestselling "Beautiful Bad Girl, The Vicki Morgan Story," "The Guys Who Spied For China," "The Blood Orange," and "The Constant Travellers."
"We especially would like new readers to introduce themselves to 'Beautiful Bad Girl, The Vicki Morgan Story,'" said M.J. Hammond, president of independent publisher and media company, Minstrel's Alley. "'Beautiful Bad Girl' has been regarded by some as the true-life 'Fifty Shades of Gray.'
"'Beautiful Bad Girl,' is wonderfully written," said Hammond. "It is a compelling non-fiction novel that documents the tempestuous affair during the Ronald Reagan Presidential Administration between department store scion, Alfred Bloomingdale, and his longtime mistress, Vicki Morgan. Their torrid relationship made international headlines, as the two lovers engaged in an obsessive-compulsive, sado-masochistic relationship at the highest levels of society. It ended up killing them both. The non-fiction novel is told as a first person narrative through the eyes of author, Gordon Basichis, who worked on the book with Morgan until she was murdered."
Hammond noted that "Beautiful Bad Girl, The Vicki Morgan Story" was first published in 1985 by Santa Barbara Press. She pointed out at that time the political and social climate was such that any book depicting a politically charged sado-masochistic love affair unsettled the gatekeepers and the powers that be.
"People loved 'Beautiful Bad Girl,' and wherever it was released it sold out in a matter of days," said Hammond. "President Reagan was at the top of the hill and even though the book wasn't about him, but about a member of his kitchen cabinet, certain people worked hard to suppress its release. Let's face it, it was embarrassing.
"However, as the smoke cleared and people started to look at that period in the eighties with a much more critical eye, book sales for 'Beautiful Bad Girl' began to take off. The book achieved a cult status. For a dozen years the audio version was distributed by Books on Tape, where it was one of their featured books."
Hammond pointed out that "Fifty Shades of Gray," if nothing else, demonstrates the tremendous demand for novels that depict a woman's sexual fantasies. "'Fifty Shades of Gray' is a major success because it goes right to the heart of the sexual fantasies women like to think about, what they like to play with in their minds," said Hammond.
"Only with 'Beautiful Bad Girl,' these were not sexual fantasies," she said. "These were sexual realities. 'Beautiful Bad Girl, the Vicki Morgan Story' is a wild, wild ride depicting the sexual demons of the rich and powerful. Nobody would ever believe it. But truth is often stranger than fiction. And this story is true."
Hammond noted how another Minstrel's Alley novel, "The Guys Who Spied for China", is a roman a clef, detailing the origins of the Chinese espionage networks that were established in this country and the attempt to destroy them.
"With all the talk in the headlines about Chinese spy rings and how they are engaged in industrial espionage and going after American military and technological trade secrets, this book should be an eye opener," said Hammond. "At $5.99 in eBook format, all of the Minstrel's Alley books make for something different in your summer reading."
M.J. Hammond is a former entertainment industry executive who founded Minstrel's Alley to publish popular books not found in mainstream publishing.
"Mainstream publishing has its purpose," said Hammond. "But the industry's focus on celebrity and genre based books has left readers wanting. We hope to help bring a sense of adventure back to books and publishing."
Background: Minstrel's Alley is a Los Angeles based independent publisher that seeks to bring adventure back into the publishing industry by publishing books that have popular appeal but with more complexity than the standard mainstream fare. The new publishing group distributes its books through Amazon, Kindle, and assorted Internet outlets as well as through bookstores around the country. You can view Minstrel's Alley at http://www.minstrelsalley.com