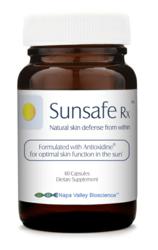 Sunsafe Rx is a natural, healthy, anti-aging nutritional supplement that protects skin from sun damage from both UVA and UVB rays.
Santa Monica, CA (PRWEB) July 25, 2012
Napa Valley Bioscience announces the availability to the public of a new nutritional supplement that protects skin from sun damage. The product, called Sunsafe Rx, is taken orally and provides protection from both UVB and UVA radiation. Made with antioxidants that naturally occur in certain foods and plants, Sunsafe Rx is a healthy nutraceutical designed to help prevent skin aging and wrinkles while at the same time support the overall health of skin and eyes.
The effectiveness of Sunsafe Rx is due to a powerful, proprietary formulation called Antioxidine, which contains specific antioxidants that decades of research and numerous clinical studies have proven demonstrate a photo-protective effect for skin but do not inhibit the body's natural production of Vitamin D.
Furthermore, the natural ingredients in Sunsafe Rx have shown a variety of clinical benefits: preventing skin aging, preserving collagen and elastin, inhibiting the formation of wrinkles and sun spots, and reducing sunlight-induced inflammation and immunosuppression.
David Murphey, President of Napa Valley Bioscience, asserts, "In light of research implicating sunlight as the most significant cause of skin aging, the dramatic recent rise in nonmelanoma skin cancer, and data increasingly suggesting many of the chemicals in topical sunscreens may be toxic, it's about time another healthy option is added to the health-conscious consumer's everyday skin protection toolkit."
Sunsafe Rx potentially benefits not only individuals with extremely sensitive skin, but also anyone looking to minimize sun damage from either infrequent or extensive exposure to the sun. While Sunsafe Rx can be taken acutely 30 to 60 minutes before sun exposure, maximum effectiveness is reached after several weeks of daily use. Sunsafe Rx can also be used as a supplement for healthy skin and eyes—regardless of sun exposure.
More information is available at SunsafeRx.com.
About Napa Valley Bioscience
Napa Valley Bioscience is a research-driven, novel nutraceutical company headquartered in California.
Sunsafe Rx and Antioxidine are registered trademarks of Napa Valley Bioscience.
For media inquiries, please contact:
David Murphey
Napa Valley Bioscience
info (at) nvbio (dot) com
213-222-8140