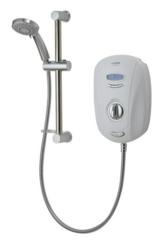 Safe and easy to use, Gainsborough's GSX electric showers are ideal for every bathroom
(PRWEB UK) 24 July 2012
Gainsborough has launched a new range of electric showers. The GSX range – exclusively available from Gainsborough online – offers three electric showers, the GSX, GSX Plus and GSX Deluxe. Each of the showers features four temperature settings, a low-pressure warning indicator, helpful, should there be any water supply issues, and comes complete with an adjustable height, 3 spray pattern handset.
Electric showers are perfect for all manner of installations. Unlike a conventional mixer shower that relies upon costly stored hot water, an electric shower heats water as it is required. As a result, it is energy and cost efficient, does not require a reserve of hot water and is usually straightforward to install. Electric showers are also ideal for second bathrooms or en-suite shower rooms.
And with a Gainsborough electric shower, there is also peace of mind. Safe and easy to use, Gainsborough's GSX electric showers are ideal for every bathroom. Simple push buttons (GSX Plus and GSX Deluxe) or rotary controls (GSX) ensure selecting a heat setting couldn't be easier, whilst enhanced controls – LED illumination on the GSX Plus and an LCD display on the GSX Deluxe – provide visual reassurance.
The three spray multi-mode handsets supplied with each Gainsborough GSX electric shower also offer versatility; a refreshing shower first thing in the morning – and perhaps something a little more relaxing after hours.
Designed to complement contemporary and traditional bathrooms, Gainsborough's new showers are finished in stylish, bright white – with chrome and white detailing, dependent upon the model.
All Gainsborough GSX electric showers offer a 2 year parts and labour guarantee and FREE next working day delivery.
Gainsborough GSX Electric Shower - Perfect For Those On A Budget
Gainsborough's robust new GSX electric shower is a great choice for new and replacement installations. Its rotary style controls couldn't be simpler to user, whilst its LED 'power on' button and low pressure warning light ensures safe showering for all.

4 heat settings – including a cold setting
Easy-glide, rotary controls to adjust heat settings
8.5kW power unit
LED light indicates power on
Low pressure warning light
Comes complete with an adjustable height shower rail and 3 spray handset
Audible 'click' on handset identifies change from one spray pattern to another
Finished in white with white/chrome riser rail and white handset
2 Year Parts and Labour Guarantee
Introductory Offer Price £79.99
Gainsborough GSX Plus Electric Shower - The Ideal Family Shower
With user-friendly features such as illuminated push button controls, an intelligent automatic heat setting switch and intelligent phased shutdown, Gainsborough's new GSX Plus is perfect for family bathrooms.
The GSX Plus will automatically switch to a lower setting if a dangerously high heat setting is selected. Meanwhile, unpleasant, hot water 'hangovers' are eliminated, thanks to the GSX Plus' phased shutdown: hot water left over at the end of a shower is flushed from the element as soon as the shower is turned off – ensuring the next user doesn't receive a burst of hot water.
In addition to GSX Electric Shower features:
Intelligent, automatic heat setting switch – prevents dangerously high heat from being selected
Intelligent, phased shut-down
Memory setting – if the GSX Deluxe is not isolated from the electricity supply after use, it will use its most recent heat setting
Finished in white with a white/chrome rail and chrome handset
Introductory Offer Price £89.99
Gainsborough GSX Deluxe Electric Shower - For Those Who Like A Little Luxury
For electric showering luxury, look no further than Gainsborough's new GSX Deluxe. Standard features include heat settings with simple to use, push button controls, an intelligent automatic heat setting switch, which prevents a dangerously high heat setting being selected, an intelligent phased shut-down – flushing hot water from the shower's element to avoid unpleasant hot water 'hangovers' – and a crystal clear, easy to understand LCD display.
In addition to GSX Plus Electric Shower features:
Illuminated LCD display that indicates actual shower's temperature**, shower duration, active heat setting, power on, low pressure warning indicator and error messages
Finished in white with a chrome rail and co-ordinated, chrome handset
Introductory Offer Price £119.99
** note that actual temperature will be shown approximately 2°C higher than at handset.