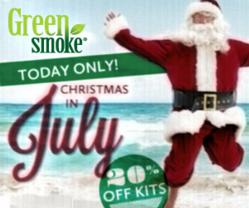 "Our electronic cigarettes provide an extremely enjoyable, realistic cigarette taste and produce no cigarette smells, making them acceptable to be smoked almost anywhere a smoker wants to enjoy them." - Ken Berg
(PRWEB) July 25, 2012
Green Smoke, the leading provider of electronic cigarettes, is proud to announce their Christmas in July Sale, and invite all customers to come and enjoy a 20% discount off their industry leading starter kits. The sale will be on July 25th only, so go to http://www.greensmoke.com now to order and use the coupon code "Xmasjuly."
"As we approach the height of summer, many people are starting to spend more times outdoors," says Ken Berg, Green Smoke's Program Marketing Manager. "People spend time with their families, at sporting events, outdoor concerts, barbeques and more. We don't want anyone to feel shunned and forced away from these events simply because they want to smoke. Our electronic cigarettes provide an extremely enjoyable, realistic cigarette taste and produce no cigarette smells, making them acceptable to be smoked almost anywhere a smoker wants to enjoy them."
Green Smoke® electronic cigarettes are known for their extremely realistic and enjoyable taste and experience. Smokers use them exactly like regular cigarettes. When a smoker exhales, a rich, flavorful vapor escapes their lips. This vapor looks like smoke but dissipates within a few seconds and has no cigarette smell at all.
Green Smoke's starter kits give smokers everything they need to start enjoying electronic cigarettes, and the Christmas in July sale is the perfect opportunity for get a starter kit at a great price.
The Green Smoke® Pro Kit is Green Smoke's flagship kit and normally sells for $129.99. It contains the equivalent of 15 packs of regular cigarettes and during this sale, can be picked up for only $103.99.
Once a new smoker buys a starter kit however they can buy replacement cartridges for as low as $1.82, when compared to a pack of cigarettes.
The Christmas in July Sale is on July 25th only. To take advantage of the 20% discount on all kits simply go to http://www.greensmoke.com, choose your kit and use the coupon code "Xmasjuly" when checking out.
About Green Smoke
Green Smoke's commitment to innovation and customer care set them apart as the leading provider of electronic cigarettes. The company was founded to give smokers the smoking experience they expect and deserve from their cigarette, while enabling them to enjoy the freedom to smoke their cigarette where traditional cigarettes are banned. Because Green Smoke® electronic cigarettes produce no cigarette smells, they're not subject to most smoking bans. Their top-rated FlavorMax™ cartridges give smokers one of the richest, most enjoyable smoking experiences available, and in 2012 their customer care team was awarded the StellaService award of 'Excellent' for their outstanding service and commitment to customer satisfaction.
This international company is based in Miami, FL. and is the proud sponsor of TJ Bell in the 2012 NASCAR Sprint Cup Series