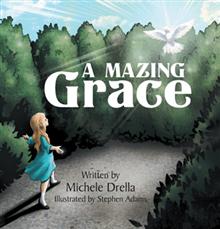 "When you ask for something," Drella reminds readers, "listen carefully for God's answer. I felt I was inspired to write A Mazing Grace to instill in young children the need to have faith."
Mount Kisco, N.Y. (PRWEB) July 25, 2012
Inspired by her faith, debut author Michele Drella offers readers her new illustrated children's book "A Mazing Grace" (published by WestBow Press).
Excited to be visiting a castle with her father while he's on a business trip, Grace is soon mesmerized by a beautiful butterfly and led into the garden maze outside the castle. Before she knows it she is lost, but she soon finds her way out with the help of animal friends sent to help her.
An excerpt from "A Mazing Grace":
After much time had passed wandering in the tall walls of the hedges, she saw a tiny squirrel in the distance. Seeing she looked lost, he stopped to ask her her name. 'Grace,' she said sadly, 'and who are you?' 'I am Simon, the royal squirrel of the court. I know what you are looking for. Follow me!' Barreling down the pathways together Simon stopped and said, 'Here, here is what you are looking for.' As Grace looked down there was a small pile of acorns. Lost and hungry, she decided to eat some of the nuts. 'Thank you' she said, 'but I need to find my way and find my father.'"
"When you ask for something," Drella reminds readers, "listen carefully for God's answer. I felt I was inspired to write A Mazing Grace to instill in young children the need to have faith."
About the Author
Michele Drella was born in Brooklyn, N. Y. Before becoming a writer, she worked for over 25 years in the finance industry in both trading and marketing. The story of "A Mazing Grace" came to Drella one morning by way of divine inspiration, as is reflected in the story's underlying message. Drella lives in Westchester, N. Y., with her daughter, Nicole, and her two dogs, Bella and Kayla. "A Mazing Grace" is her first children's book.
Drella's second book, "Crosses to Bear," will be for older children to teach the importance of repentance.
WestBow Press is a strategic self-publishing alliance of Thomas Nelson, Inc., the world's largest Christian publisher, and Author Solutions, Inc. (ASI) — the world leader in the popular self-publishing industry segment. Through this partnership, authors benefit from the rich publishing heritage of Thomas Nelson and the speed-to-market advantages of the ASI self-publishing model. Titles published through WestBow Press are evaluated for sales potential and considered for publication under the Thomas Nelson imprint. Thomas Nelson, Inc. continues to "inspire the world" with distribution of products in more than 100 countries worldwide. For more information, or to start publishing today, visit http://www.westbowpress.com or call (866)-928-1240. Follow us @westbowpress on Twitter for the latest news.