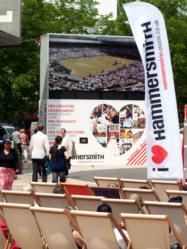 We have seen a huge demand for screens to broadcast this summer's sporting events, with the London Olympics a particular highlight.
Preston, Lancashire (PRWEB UK) 26 July 2012
ADI will be involved in more than 25 public screening events, supplying their mobile and modular LED screens to city centres and public spaces around the UK, allowing huge numbers of people to communally watch, celebrate and commiserate.
Public screenings will help create great shared viewing experiences and bring communities together to enjoy the Games - in addition to generating increased footfall that benefits local commerce.
ADI have worked with a range of organisations, councils and companies to provide giant LED screens, and with no shortage of nationally important sporting and cultural occasions to broadcast this summer, ADI began installing temporary screens in May at urban locations including Grey's Monument in Newcastle upon Tyne and Lyric Square in Hammersmith.
A huge 25 m² screen in the heart of Newcastle upon Tyne is the focal point of 'Monument Live', which began at the end of May. The screen is located in a busy area near one of the city's main Metro stations and surrounded by cafes and retailers, where it has already allowed large crowds to enjoy Euro 2012 and Wimbledon. It will remain in place until September 17th, screening not only the full duration of the Games, but also the Great North Run.
Meanwhile, in the host city of London the busy hub of Lyric Square in Hammersmith presents the 'I Love Hammersmith 2012 Summer Festival', where a 15 m² ADI screen will be the key element in creating an 'urban beach' that resembles a gigantic open air living room. Live Olympic coverage will be just a small part of the extensive programme which has run since mid-June, including live screenings from the Royal Opera House and movie nights, which can all be enjoyed from the comfort of free deckchairs provided.
A whole host of ADI screens to specifically broadcast the much anticipated Olympic opening ceremony – designed by artistic Director Danny Boyle - will also be in place up and down the country, at locations including Sanders Park in Bromsgrove, Gadebridge Park in Hemel Hempstead and Seaham town centre. While countless other venues will feature ADI screens for the full duration of the Games; in London their Big Screens can be found at several sites such as Central Park in Newham, Stratford Park, Hackney's Haggerston Park, Blackheath Common, the Old Royal Naval College at Greenwich and The Royal Exchange, a luxury shopping and dining destination in the City of London – ensuring that those working can be kept up to date with Team GB's progress!
Outside of the host city, ADI screens showing the Games can be found in city centres and parks around the UK – amongst them are Preston's Flag Market in the North and Birmingham's Mailbox Shopping Centre in the Midlands, and even one of the most beautiful stately homes in the country will feature a Big Screen, with Blenheim Palace positioning a temporary ADI screen in their Pleasure Gardens. Whilst Weymouth seafront will use two large mobile screens in anticipation of the area's popularity during the next month, particularly with Olympic sailing events taking place locally.
Some of ADI's permanent LED displays are also expected to draw significant crowds during the Games, which can be found at public spaces including Belfast's Donegall Square, Coventry's Millennium Square and Manchester's Spinningfields.
Many venues will use Big Screens as central focal points for sporting themed events and wider programmes of entertainment - such as the 'I Love Hammersmith 2012 Summer Festival' and 'The Lewisham Big Screen' at Blackheath Common - which will see sport workshops, street theatre, live music and a tea dance in a Spiegel tent take place between the 27th July and the 12th August, all beside the ADI screen.
Nick Robinson, Head of Screen Rentals at ADI, commented, "We have seen a huge demand for screens to broadcast this summer's sporting events, with the London Olympics a particular highlight, and many venues across the country will allow people to enjoy watching the full duration on our screens.", he added, "Local councils and organisations are aiming to bring communities together in celebration of the Games, in addition to attracting people to city centres and high streets in order to give a much needed boost to local economies."
It's not the first time in 2012 that ADI have provided a large amount of their screens for nationally important occasions in the UK; in June the company supplied over 60 screens across the official celebrations of the Diamond Jubilee - including the Thames Pageant and the BBC concert by Buckingham Palace - which allowed millions of people to enjoy the festivities.
________________________________________
ADI are one of Europe's leading names in LED screen installation and rental. Having installed the first LED screens in UK football 1997, they have gone on to dominate the stadium market, whilst also providing similar services to retail and leisure markets. ADI offer a full service solution, encompassing manufacture of their own Virtuality LED screens and digiSIGN digital signage, as well as installation, programming, production, on-going operation and maintenance.
In the rental market, ADI provide large screen and production to some of the world's leading events, including The Diamond Jubilee Concert, The Thames Diamond Jubilee Pageant, The London Marathon, The Royal Wedding and Royal Ascot; for global brands, including T-Mobile, Nike and Mazda; and for hundreds of smaller events each year. Famed for their mobile LED screens, ADI's iCONIC family is not only the world's largest fleet of mobile LED screens, but also the widest, offering screens from 12 to 100m² (the world's largest).
ADI continues to expand outside of Europe, including installations at two venues for the 2010 FIFA World Cup South Africa.