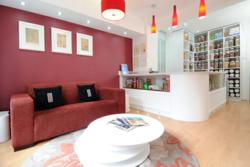 "The completed shop is fantastic" says the independent Chinese Herb Professor, Shulan Tang
Manchester, England (PRWEB UK) 25 July 2012
Independent Chinese Herb Professor, Shulan Tang, has launched a new take on East meets West, by renovating her traditional Chinese herb shop with a truly contemporary interior. This week she re-launches her City centre herb and treatment shop following a radical interior makeover, which brings her shop right up to date.
Unlike many old-fashioned Chinese Herb Stores, Shulan wanted her traditional eastern medicines to meet modern-day Manchester with a fresh, contemporary interior for her reception and waiting area, commissioning professional interior design company, 'Hannah Barnes Designs' to transform the space.
Owner and designer, Hannah Barnes explains her client's brief was clear and forward thinking; "Shulan wanted a space which felt inviting, invigorating and full of light. And I understood that the
environment her clients walked into had to be health-promoting. My client felt it was important for her patients' environment to be a boost to their on-going health treatments."
"I designed a simple, bright interior which focused on maximising the natural light, and opening up the space as much as possible. We created lots of new storage for the hundreds of herbs and medicines kept on the premises, as well as creating a bespoke curved countertop made from hygienic solid acrylic, which every member of staff now use to measure out and mix the traditional ingredients needed for each individual patient."
The Shanghai Clinic on Portland Street, Manchester was launched in 1988 with Professor Tang acquiring the clinic in 2007. The clinic adheres to the ancient Chinese traditions for promoting a
healthy body and preventing illness, before needing to treat it. The combination of minerals and plants in the form of pills, powders and tea-bags is known for treating a vast range of ailments,
from sea-sickness, skin ailments, and gynaecology problems as well as back and muscular pain. The Shanghai Clinic in Manchester combines its medicines with acupuncture and massage treatments.
Visit http://www.shanghaiacupuncture.co.uk for more information on how The Shanghai Clinic may be able to help improve your health.
Hannah's team of contractors completed the transformation of the shop in less than four weeks, whilst the staff continued to need the space to serve customers. This wasn't the only challenge, as Hannah explains; "Although Shulan's English is perfect, my Chinese language skills are non-existent, so there were some challenges ensuring the staff and customers understood what was happening next and making sure they were happy with the project's progress".
And what was Professor Shulan Tang's verdict on the new makeover? "The completed shop is fantastic. It's bright and modern with practical space solutions. Everyone loves the new space and the customers get quite a surprise when they enter the shop if they remember how it used to be!"
Visit the Hannah Barnes Designs website for ideas and tips on how to update your home or business interior and do not hesitate to contact Hannah about your current or future project.
http://www.hannahbarnesdesigns.co.uk