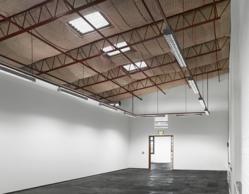 We completed this regeneration project on the exact date we said we would – no delays, no overspends. The opportunity to make an Olympic vision of a thriving cultural centre into a reality makes me really proud.
East London, UK (PRWEB UK) 25 July 2012
As London 2012 finally descends on the UK, East London building firm BRAC is realising the Olympic legacy in record time, working closely with the London Legacy Development Corporation.
The White Building, a derelict former print house situated in Olympic thoroughfare Fish Island, is the site of an impressive refurbishment that breathes life into the local community by offering studio and exhibition spaces to local artists, a vibrant programme of screenings and music events, and public facilities including a café and micro-brewery.
Whilst the contribution of lead architects David Kohn to the project has been widely publicised, the renovation has been driven behind the scenes by BRAC's skill and commitment. The firm worked closely with David Kohn to deliver the build to a challenging aesthetic and environmental brief and a limited budget.
Despite competition from larger firms, BRAC Group were selected by the London Legacy Development Corporation for their insider knowledge of the local area's culture and aesthetics, proven track record in hands-on management to tight time scales, and innovative approach towards environmental sustainability.
Their involvement represents the impact of the Olympics not just on the country as a whole, but on locally based projects delivered by suppliers operating at the coalface to deliver on legacy expectations.
A tight budget inspired the innovative yet cost-effective use of environmental measures including the use of lamb's wool to insulate the building. This natural solution insulates against sound, is fireproof, and can pay back its own energy costs five times faster than man made alternatives.
Adam Clark, Managing Director of BRAC, explains more: "As well as delivering a contemporary space it was vital to address environmental issues" he says. "That didn't just mean finding intelligent and cost-effective solutions. It meant thinking creatively about energy efficiency at every stage of the build – from responsible site clearance and reclaim to efficiency in the new heating system, sanitation and drainage areas".
The build was more than just a run of the mill contract for BRAC, as Adam reveals: "BRAC is a family firm and we're based just 30 miles from the site, so we have a lot of East London based staff who will benefit from the Olympic regeneration" he explains. "The legacy is dependant on visionary concepts balanced against the best practical use of funding and resources. Our local understanding, highly skilled tradesmen and tight project management structure enabled us to achieve the build to superior standards but within budgetary restrictions. We completed this regeneration project on the exact date we said we would – no delays, no overspends. The opportunity to make LLDC's vision of a thriving cultural centre into a reality makes me really proud."
About BRAC
With 4 decade's combined experience in building contracting, BRAC is a main contractor specialising in new builds, renovations, renewable energy structures and roofing for schools, commercial spaces and listed buildings across London and the South East,
The East London company operates with a team of carefully selected tradesmen, each of whom is highly skilled in their own field.
Past prestigious projects include a £2.5 million refit of Queensmead School in Middlesex, the complete refurbishment of Welwyn Civic Centre in just 6 weeks, and the full roll out of energy saving sanitation systems for Johnson and Johnson, saving approximately 400,000 litres of water per toilet block per annum.
For more information visit http://www.brac-group.co.uk
Press opportunities
The White Building was launched on July 13th as a beacon of local cultural regeneration and showcase of creative urban architecture.
BRAC's involvement is a prime example of the vital role of the smaller suppliers and contractors behind the scenes who are making London 2012's legacy into a reality.
Interviews, filming and feature opportunities are available for journalists seeking a different angle on the Olympics by revealing the "ground-up" commitment required from local dedicated workforces to maximise the Olympic potential for regeneration on a local level.
For more information contact
Amy Hatton
BRAC Press Officer
Sellcomms
amy (at) sellcomms (dot) com
07855 333 630