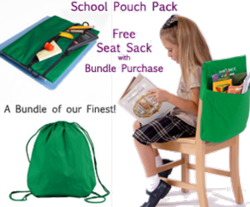 "Developing good study habits and organizational skills at an early age helps minimize stress on both children and parents." -National Association of School Psychologists
Naples, FL (PRWEB) July 25, 2012
Markers and pencils and notebooks; oh my! Through the mad rush of trying to find all of the school supplies that students will need for a successful back-to-school season, the most important tool is often overlooked. So what is that secret supply that you need to be sure to cover on your back-to-school list? Prepare students for back-to-school with effective classroom and home "organization"!
Good organization skills play an important role in student success. According to the National Association of School Psychologists, "Most students understand a homework assignment and have the ability to perform the task but forget to bring home all of the materials required to complete it." Virginia Smith Harvey, the author of "Helping Children at Home and School," states that "students with good organizational skills find it easier to study and complete assignments." Teachers and parents must work together to help students learn good organizational skills. Not only should students be provided with the right organizational tools, but they also need to be taught how to use the tools, receive demonstrated practice on using the tools and often this means re-teaching and evaluating to make sure that what has been provided and taught are effective with the students learning styles.
How can students learn organizational skills?
1-Develop an Organized Routine. Repetition helps students to learn home and classroom activities. Routines allow children to predict what happens which provides security and preparedness. According to a Vanderbilt Education report, "schedules and routines facilitate children's understanding of the learning environment expectations." As parents and educators we should not assume that children will pick up on a routine. Take the time to teach and write out a schedule for students and walk them through the routine and expectations. Having a visible calendar where family activities can be tracked and prominently displayed is important for a visible clue each day. Have a prepared time each week to check and update the calendar.
2-Create an Organized Homework Binder. Researchers find that a common trait among students who are disorganized is the inability to keep track of their homework long enough for it to be turned in for a grade. Inside the binder it should be color coded by subject with a two pocket color coded homework folders for each subject and a matching divider tab. Colors should be coordinated with colors that the teacher uses in the classroom for each subject. The color coded two pocket folders should be marked on the left side, "Homework to Complete". Upon completion the assignment should be placed on the right side of the folder labeled, "Homework to Turn In". A red folder should be placed in the front of the binder and should be reserved for important or time sensitive materials such as permission slips, communication with parents and/or notes about special assignments or tests. Seat Sack recommends that tools to complete assignments be kept with the binder in a pencil pouch that slides on the front of the binder such as the Strap-n-Sack. This zippered pouch should have multiple pockets and provide a large enough area to hold even a calculator. Teachers and parents should emphasize the importance of the binder and its daily use during the first few weeks of school. They should also demonstrate how to use the binder and provide students with a time to maintain their binders.
3-Provide an Organized Study Area. At school students need to have a space where the binder is easily accessible at school as a working tool throughout the day that the teacher can demonstrate to the students where to place materials as they facilitate through each subject. When students bring the binders home, parents need to have a workplace set up where students can place their binder so that they can easily find their binders when they are ready to begin homework. Creating a personalized storage space, such as a Seat Sack storage pocket on the back of a chair, for each student is important as it allows them to take ownership and it is easy for parents and teachers to see if the student is practicing the organization skill. Being consistent is important, if the teacher and the parent use the same method, it reinforces the development of the organizational skill.
Organizing Your Desk or Work Space: An organized desk area is both neat and functional. Items are not lost and can be easily located. Papers are stored in folders or sections of a notebook. Books are stacked with the titles easily read. Pencils, glue, pens and other small items are stored in a container. A good study space should also include a hard flat surface large enough to include books, paper and other study materials, and adequate lighting. The study space should be consistent and free from distractions. Be consistent in placing study materials in the same location from one time to the next.
4-Keep an Organized Book Bag. Teach students to only carry essentials back and forth to school. Keep bags neatly organized by designating certain zippered pocket for specific items. Place all loose papers in a folder or binder. Keep textbooks organized by size. Regularly review contents of the bag and discard unneeded items, which will eliminate overloading a book bag which then becomes too heavy to carry.
5-Maintain an Organized Locker. For students with locker space, use shelving systems to create more locker space allow books to be placed in an organized fashion. Shelves or storage devices specifically designed for lockers may be helpful. Small items should be contained in your pencil pouch or backpack or in a hanging container in the locker, which will add to the organization and ease of access of a locker.
Organization is a lifelong-skill that needs to be developed, practiced and mastered. With these simple strategies, staying organized from the first day of school to the last is possible. After all, studies show that good organization habits lay the groundwork for successful work habits as an adult.
About Seat Sack, Inc
The Original Seat Sack Company has been helping teachers, parents and students get organized with personal storage space for the home, school and office for over thirteen years. Known for their patented Seat Sack chair storage pocket, the company has expanded their line with organizers for the classroom, locker, dorm and office. In addition to the Seat Sack organizer line, the company recently opened an educational products line under O2Teach, "Organize to teach". With a passion to provide high quality educational tools and organizers, both companies assist educators and parents in engaging learners and meeting the needs of the individual student.