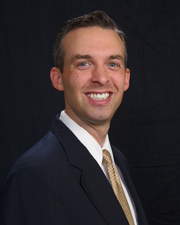 MELBOURNE, FL (PRWEB) July 25, 2012
Dr. Ara Deukmedjian, CEO of Deuk Spine Institute, announced today the addition of Dr. Zachariah W. Chambers, fellowship trained in Interventional Pain Medicine, to the multi-specialty practice: "The demonstrated expertise Dr. Chambers brings with him from the University of Mississippi's School of Medicine expands Deuk Spine's already deep bench in pain management to Sports Medicine and, in particular, interventional procedures for joints with a focus on back and neck patient issues. We are extremely pleased to have Zach Chambers join our team."
"Having seen the value of our 'comprehensive care' model at Deuk Spine that allows patients to be treated by multiple, related specialists for their back and neck issues – all under one roof – the inclusion of an additional interventionalist to broaden our reach and keep up with increasing demand was a natural for us at Deuk Spine Institute. Many of our patients have hip, knee, elbow or shoulder issues in addition to the back or neck pain they see other Deuk Spine physicians about, so I am excited to announce that Dr. Chambers will be joining us as Interventional Pain Management Specialist" states Dr. Deukmedjian.
Dr. Chambers can see patients within two weeks at either of the Deuk Spine locations. Dr. Chambers will treat patients in Melbourne and Titusville and perform procedures on an outpatient basis in our surgery center in Melbourne.
Dr. Chambers comes to Deuk Spine Institute from Jackson, Mississippi where he completed specialized Fellowship training in Pain Management at the University of Mississippi. He completed his internship and residency at the Medical College of Virginia in Richmond and earned his M.D. at the University of South Alabama School of Medicine in Mobile. He graduated cum laude with a B.A. from Brigham Young University in Provo, Utah.
Dr. Chambers subscribes to the Deuk Spine philosophy of a Patient First culture and brings to our multi-specialty practice tenured teaching and speaking skills. He will be an active participant in our educational Back in Motion seminars. Dr. Chambers will work with Dr. Patel and Dr. Deukmedjian in diagnosing and treating patients with back or neck pain with a focus on interventional pain management procedures. Published more than 20 times as an investigator and researcher, Dr. Chambers will also add to core research capabilities of our non-profit Deuk Spine Foundation.
About Deuk Spine Institute
Deuk Spine Institute® is a multi-specialty practice with clinics and surgery center in Melbourne and Titusville, Florida and focuses on treatment of neck and back injuries, spine and joint conditions, and sports medicine. The 'continuum of care' philosophy at the Institute includes therapy, pain management and surgery options for patients. Specialties include neuro-spine surgery featuring Deuk Laser Disc Repair®, Deuk Endoscopic Spinal Fusion®, electrodiagnostic medicine, physical medicine and rehabilitation, and interventional pain management. To learn more about Deuk Spine Institute® visit http://www.deukspine.com or call 1-800-Fix-My-Back or 1-800-Fix-My-Neck.