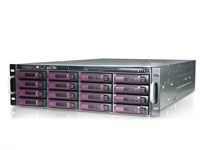 . "Our performance optimized storage line gives customers the better choice of an out of the box ready to deploy system that doesn't up-charge for functionality that should come standard" said Chuck Orcutt, Director of Product Management at Seneca
Syracuse, NY (PRWEB) July 26, 2012
Seneca, a leading manufacturer and distributor of innovative technology solutions, today announces the availability of the xVault Unified Storage Platform (USP). The xVault USP is a family of appliances that function as both network attached storage (NAS) and storage area network (SAN) systems; designed and optimized to handle both block and file data types, and ready for deployment right out of the box.
xVault USP offers a combination of unique and exclusive features not found with other storage platforms, including:

xVault OOBE Plus – All xVault USP systems are optimized with custom settings and services that would take 3 or more hours to configure onsite, saving time and making deployment out of the box a snap
xVault Rapid Recovery – Each xVault system ships with a custom quick restore image to recover the unit in case of failure
xVault Feature Complete – The xVault USP is simplified by eliminating the costs and maintenance fees associated with proprietary and complex option/bundle packages that other vendors routinely use to pad margins. xVault USP offers additional features for enhanced out of the box value without hidden charges such as drive encryption, snapshots, remote replication, local mirroring
"The xVault Unified Storage Platform eliminates the difficult decision customers once had to make between completeness of product, performance and price," said Chuck Orcutt, Director of Product Management, at Seneca. "Our performance optimized storage line gives customers the better choice of an out of the box ready to deploy system that doesn't up-charge for functionality that should come standard."
The xVault Unified Storage Platform comes in 3 separate models:
XV-UM2U35: 2U rackmount chassis with 12 drives and no expansion capability
XV-UM3U35: 3U rackmount chassis with 16 drives and 80 drives for external expansion
XV-UM4U35: 4U rackmount chassis with 24 drives and 120 drives for external expansion
For more information about pricing and availability contact Seneca Account Manager at (800) 227-3432 or visit http://www.senecadata.com/products/xVault/xVault-unified-storage.aspx.
About Seneca:
For over 30 years, Seneca has met the needs of customers in diverse industries with original and partnered technology solutions. As a leading U.S.-based Custom Computer Manufacturer, Seneca serves the evolving needs of our Business, Gov/Ed, Digital Security and Digital Signage, Digital Security and Surveillance, Digital Health and Digital Broadcast customers nationwide. By establishing the highest standards for our products, we forge long-term, mutually beneficial partnerships that deliver results. Seneca is best known for our rigorously tested Nexlink brand of custom-built desktops, servers, notebooks and storage devices. Our success is built on service and consistent performance at every stage of the extended technology lifecycle. For more information visit http://www.senecadata.com.
Seneca. Creating & Partnering Throughout the Technology Lifecycle.
# # #