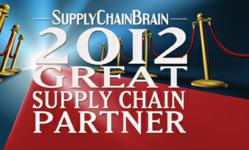 Blue Ridge has been distinguished as one of the elite providers for the positive impact their Software-as-a-Service solutions have had on their clients' efficiency, customer service and overall supply chain performance
Atlanta, Georgia (PRWEB) July 24, 2012
Leading global SaaS inventory solutions provider Blue Ridge today announced that it has been named a SupplyChainBrain Great Supply Chain Partner for 2012.
This award is yet another among those the Atlanta, Georgia-based company has received, recognizing them as a leader in demand forecasting, demand planning and replenishment for retail and distribution. SupplyChainBrain awards this designation to the leaders who best understand and respond to the unique challenges of logistics and supply chain management.
Each year, SupplyChainBrain editors have recognized a select 100 Great Supply Chain Partners that enable logistics and supply chain excellence. This 10th annual list is the result of nominations received from logistics and supply chain professionals around the globe. After six-months of online polling, Blue Ridge has been distinguished as one of the elite providers for the positive impact their Software-as-a-Service solutions have had on their clients' efficiency, customer service and overall supply chain performance.
The number of nominations for the award reflects a continuing trend—the demand for an innovative supply chain partner that produces truly significant results continues to grow. SupplyChainBrain publisher Brad Berger reports "Nominations were received for hundreds of trading partners in every aspect of supply chain management. The 2012 July/August issue of SupplyChainBrain magazine includes the select list of companies whose solutions and services have been so impressive, that their customers took the time to write and let us know." During a time when supply-chain decision-making is becoming increasingly complex, more companies are turning toward SaaS providers like Blue Ridge because they recognize the need for agility as well as enterprise-class, comprehensive solutions.
Among the Top 100, Blue Ridge leads the way in enterprise-class SaaS solutions. The company delivers demand forecasting, planning and replenishment solutions that utilize a unified, demand-driven approach to inventory optimization by capturing customer-centric activities across the enterprise or between trading partners. The cloud-based demand analytics, along with fully-integrated, proven planning and replenishment methodologies provide a sound foundation on which companies can solidify and enhance their supply chain initiatives.
The Blue Ridge SaaS solution delivers both uniquely configurable architecture and proven best-practice, driven by unmatched industry expertise. Blue Ridge CEO, Greg White believes this is the future for software, "Software implementations for too long have been complex, time-consuming and risky, because the methodologies from long ago have survived beyond the point where they serve the client," continued White, "Instead, our robust configuration not only removes the need for custom code, it also leverages what we've confirmed in the marketplace to be successful, so companies can capitalize on the successes of the community of users to ensure and expedite their success."
White believes that this approach leads to stronger and more dramatic improvements, without the significant disruptions of legacy-licensed software. This approach can lead to dramatically improved demand fulfillment and product availability, rapidly driving game-changing results, as seen in the company's customer testimonials.
About SupplyChainBrain
SupplyChainBrain, the world's most comprehensive supply chain management information resource, is accessed year round through a wide range of ever evolving multi-media formats by hundreds of thousands of senior level industry executives. In addition to addressing the fundamental principles of supply-chain management, SupplyChainBrain identifies emerging trends, technologies and best practices, forward thinking ideas and cutting-edge solutions ~ and continues to write and report about these as they evolve and mature. http://www.supplychainbrain.com
About Blue Ridge Inventory
Blue Ridge leads the way in enterprise-class Software-as-a-Service supply chain solutions. Blue Ridge solutions and services turn inventory investments into cash flow and revenue generation opportunities. The company's robust cloud-based solutions deliver a tightly-integrated, yet flexible architecture for demand analytics, forecasting, planning, replenishment, SKU rationalization and other demand-driven optimization solutions to provide a sound foundation on which companies can solidify and enhance their supply chain initiatives. To find out why global supply chain leaders such as CVS, xpedx, Burris Logistics, CRP Industries, Europris, Home Hardware, K. Ekrheim, Martin Brothers and Procurator trust Blue Ridge and its unmatched expertise as their inventory alignment partner, visit http://www.blueridgeinventory.com