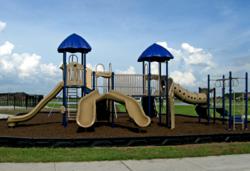 Dede was an invaluable asset in determining what was feasible and integrating our needs within our budget.
Saint Augustine, Fla. (PRWEB) July 24, 2012
BYO Recreation's $1 Million Create Play Fund succeeded in its goal of helping schools, daycares, churches and communities across the nation create play for children by matching customer funds—totaling over $1 Million in donated funds. BYO Recreation helped over 100 communities nationwide, including the River Bend community in Hillsborough County, Florida, save a substantial amount of money on their playground equipment.
Due to the housing crisis in recent years, the River Bend community experienced a significant setback in their development. Part of this setback included promised amenities that were never realized, triggering the Community Development District (CDD) to take action and get the subdivision back on track to its full potential.
"Our ultimate goal is to create the amenities that homeowners expected and develop a sense of community where there are options for the adults and the youth to socialize, exercise and relax," said Lance Belka, River Bend's Community Development District Supervisor.
The first priority of the CDD was the creation of the "Phase I Amenity Center." This center now offers the community separate adult and children's swimming pools, as well as their new BYO Create Play playground equipment, achieving the goal of providing a positive outlet for the children.
Having previously worked with BYO Recreation Playground Consultant Dede Owens in order to purchase park benches, bike racks and dog waste stations for the community, the CDD called on Owens once more to assist in the planning, ordering and assembly of their new Red Baron playground structure—BYO's second most popular Create Play structure.
"Dede was an invaluable asset in determining what was feasible and integrating our needs within our budget," said Belka, "The most significant factor is what was promised was received, on schedule and within budget. She clearly understood our situation and worked within those guidelines to provide the best options available. It is our intention to use BYO Recreation, and Dede, as we continue to develop our resources for the residents we serve."
About BYO Recreation
Headquartered in St. Augustine, FL, BYO Recreation is one of the most comprehensive and fastest growing recreational equipment suppliers in the world. Since 1999, the company has helped thousands of schools, churches and communities create recreational spaces that are truly Beyond Your Ordinary. For additional information about BYO Recreation, visit http://www.byoplayground.com.