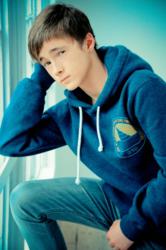 Will De Vries likes to follow fashion
London, UK, 30th July 2012 (PRWEB UK) 30 July 2012
As they launch another teen modelling portfolio online, La Mode London toast a teenager's talent for perfect posing.
'Will De Vries likes to follow fashion and he is very keen on drama and music,' explains Helen Smith, director for the commercial photography company. He feels that modelling allows him to combine all of these things in one career and we would certainly agree.'
At the very hub of the modelling industry, the team at La Mode launch yet another stunning modelling portfolio and accompanying website online. 'The younger generation can certainly make a big impression in the modelling industry,' says Helen. 'Will is no exception. He took direction very well in front of the camera and was a natural. With his height, 5'9", it was sometimes hard to remember he is only 14 years old.' She goes on to explain, 'our dedicated photo shoot days tailored around the individual model, but they certainly get to see life in the fast lane. Our studios are constantly full of models rushing here and there, the beauty experts and photographers all adding to the hustle and bustle of a very real photo shoot. Each model definitely experiences a day in the life of their preferred profession. Sometimes it puts them off, but more often than not, it only adds to their ambition to be part of the industry.'
Will keeps himself busy with a wide variety of hobbies when he isn't modelling, from indulging his creative side by singing, playing guitar, song writing and taking part in drama, through to playing various sports such as athletics, rugby, football, cricket, hockey, swimming and parkour - a form of free running. Will is also a keen mountain biker and also plays the piano.
When asked why he became a model he said, 'I have always had a passion for many things, fashion being one of them, and given that I enjoy and do well in drama and music, modelling seems a sensible career to take on that I enjoy.'
Will is available for advertising and commercial modelling, catalogue, catwalk and fashion modelling as well as editorial, exhibition and promotional modelling. His musical abilities are highlighted in his hobbies and interests.
'I perform guitar, singing and song writing regularly and I also enjoy doing drama at Hull New Theatre where I also perform regularly.'
His inspirations are the boxer Amir Kahn, Jimi Hendrix, the actor Taylor Lautner, and songwriters Ed Sheeran and Taylor Swift. His eclectic and diverse musical tastes are apparent in his penchant for The Calling, Eric Clapton and Guns 'n' Roses.
Helen Smith, director for La Mode London, the company who have been at the forefront of the modelling industry for a number of years, explains they provide honest and forthright advice on how to become a model at any age when they arrive for their photo shoot day. She explains how important it is for a teen model to break into the London teenage modelling agency scene if at all possible, to carve a career which can only go skyward.
Each portfolio website is launched by the commercial photography company are professionally designed, each containing a homepage, a portfolio page and a contact page for each new model. Each site also has a domain name included in the package, which sometimes is an added hidden extra with some companies they say, but not with La Mode.
See Will de Vrie's extraordinary new portfolio launched today at http://www.lamodelondon.com and see a model in the making.