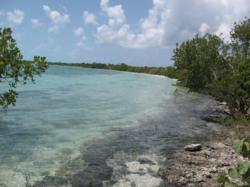 "This property is located on a pristine out island and will see a great deal of growth in the next few years,"
Lakeland, FL (PRWEB) July 25, 2012
Higgenbotham Auctioneers International will offer at auction a paradisaical waterfront development tract at 11am, Friday, August 3rd on Long Island Bahamas. This 30± acre development tract sits on the north end of Long Island and is prime for a oceanfront hotel or resort.
Long Island is one of many islands that are part of the Southern Bahamas Out Islands. It was one of the first islands discovered by Columbus in 1492. In his ship's log, he described it as "the most delightful island in the world." Long Island, Bahamas
Long Island is over 70 miles long and only five miles wide with lush green foliage covering the island. The islands natural beauty features cliffs, sandy beaches and calm clear blue waters, so replete throughout the Caribbean. The main road runs the length of the Island and gives access to its quaint small villages all with a relaxed Bahamian lifestyle.
The Island has many high points including the Columbus Monument near were the explorer reportedly landed in the new world, caves in the salt pond and Dean's Blue Hole, one of the deepest salt water holes in the world. Other island features are the Hamilton caves, the Long Island Museum in Buckley's and countless Iguanas on Iguana Cay.
"This property is located on a pristine out island and will see a great deal of growth in the next few years," commented Mike Nall an auction manager with Higgenbotham.
The auction company is offering three ways to bid on the property:
1) On-Site at: Cape Santa Maria Beach Resort, Long Island, Bahamas
2) Online at: Higgenbotham.com
3) Live In person at: Higgenbotham Auctioneers - 1666 Williamsburg Square, Lakeland, FL
About Higgenbotham Auctioneers International Ltd., Inc.:
Founded in 1959, Higgenbotham Auctioneers International ("HAI") is headquartered in Lakeland, Florida and specializes in the sale of corporate real estate throughout the United States and the world by utilizing the auction method of marketing.
HAI is an alliance partner of NAI Global and enjoys continuing relationships with Fortune 500 clients such as Alcoa, International Paper, Wal-Mart Realty, and Sinclair Oil, as well as many publicly traded and closely held companies.
For complete information about Higgenbotham's auction process or its current auction calendar visit higgenbotham.com or call Mike Nall at 800-257-4161.