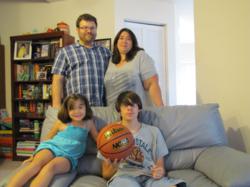 "Ms. Rhodes essay was creative and refreshing," says contest judge, Todd Tyler, Vice President of Marketing, DynaVox Technologies. "We applaud Candy and the daily work she does – Caregivers DO have the toughest job."
Fort Myers, FL (PRWEB) July 25, 2012
Autism on the Seas (AotS), a niche travel company catering to vacationing families with special needs, and Skyeward Bound Ranch (SBR), a non-profit charity dedicated to providing social and recreational interaction for specially challenged youth, jointly announced today that Candy Rhodes of Fort Myers penned the winning essay in the groups' Florida-region "I Need a Special Vacation" essay contest. The 16-region, 50-state contest campaign kicked-off last April to help promote SBR's national vacation grant program in partnership with AotS.
Based on consensus from the contest judges, Ms. Rhodes' essay was exceptional – featuring a fun yet touching "Gilligan's Island" theme. "Ms. Rhodes essay was creative and refreshing," says contest judge, Todd Tyler, Vice President of Marketing, DynaVox Technologies. "We applaud Candy and the daily work she does – Caregivers DO have the toughest job." According to contest judge, Kim Stagliano, editor-in-chief, Age of Autism, the entries were all in some way special. It was extremely difficult to narrow it down to one winner, but Candy's essay stood apart – well done!
Florida region grand prize essay winner, Candy Rhodes, and her family, will enjoy a special needs cruise vacation with Autism on Seas. Additionally, Peace By Piece Learning Center, a Fort Myers, Florida, non-profit, dedicated to providing research-based behavior, analytic and educational services to children with autism and other developmental disabilities, will also be awarded a cruise based on Rhodes' entry, identifying Peace By Piece as her autism advocacy group of choice. Candy's winning essay can be read on the Autism on the Seas website.
SBR and AotS will kick off the third regional contest open to special needs families in the states of Alabama, Georgia and Mississippi on Thursday, July 26th.
Grant Program - Open for ALL Special Needs Families
The SBR Grant Program is a program designed to financially assist families wishing to vacation with Autism on the Seas Cruises and Resort Stays who meet criteria set forth by Skyeward Bound Ranch. The grants may be awarded in any amount up to the full vacation cost for a family, minus the deposit*.
A Request Form for SBR Grant applications can be found on the AotS website. Completed grant applications are screened and submitted for review to a five-person panel to determine each candidate's eligibility by Skyeward Bound Ranch.
Qualifying applicants will be notified of their Grant status within 30 business days of the date the completed application is received by Skyeward Bound Ranch.
Check out the AotS or the SBR website for other financial assistance programs, such as the Gift Card Program, to assist families currently booked on an Autism on the Seas Cruise or Resort Stay with Staff.
About Autism on the Seas
Founded in 2006, Autism on the Seas (AotS) is the flagship division of Special Needs on Vacation, LLC. AotS is a niche travel company that organizes and staffs cruise and land resort vacations for families with special needs. Our specially trained compassionate staffers provide care, attention and fun, as appropriate, to our special needs vacationers' condition, comfort-level and ability. Our staff is accustomed to working with special needs passengers with a broad range of conditions, including autism spectrum disorders, Down syndrome, cerebral palsy and other cognitive and intellectual developmental impairments.
AotS has a close-knit fan-base on Facebook and they love to hear success stories from families who have traveled with them – or are planning to! Catch us on Facebook at http://www.facebook.com/autismontheseas and on Twitter @AutismontheSeas.
Skyeward Bound Ranch is a Non-Profit, Tax Exempt 501(c)3 Charitable Organization dedicated to providing social and recreational interaction of specially challenged youth. Your support contributes significantly to our efforts to continue building an educational and entertaining program of the highest quality and national distinction with established and successful youth camps around the state of Texas. You are also serving as a standard of committed civic responsibility inspiring others to support important causes as well. Website: http://www.skyewardboundranch.org
*All families applying for financial assistance under the Skyeward Bound Ranch Grant Program are required to place their own deposit to secure their cruise/resort stay, upon being notified by Skyeward Bound Ranch that they have been awarded a grant. Vacation deposits usually range from $200.00 to $500.00 per cabin/room based the length of the cruise or resort stay.
# # #