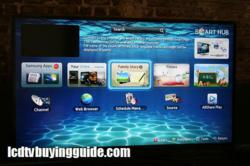 Atlanta, Georgia (PRWEB) July 25, 2012
Editors Jack Burden and Robert Wiley have several TVs they recommend for watching the Olympics or Sports in general. "We were looking for TVs that exhibited great color saturation and depth perception along with being able to display fast action without motion lag and judder effects." explained Wiley. "There are several HDTVs on the market that fit the bill."
The company lists the attributes it looks for in the Best Sports TV page which states, "1) Great viewing angles without contrast loss – when you've got the guys over watching the game you do not want contrast to degrade and black levels begin to look washed out at angles. 2) No Motion Lag, blur and minimal judder – judder is that annoying jerky effect when the object or person moves side to side across the screen. It should be smooth. Motion lag or blur are produced when the processing in the TV are slower than the object moving on the screen causing some delay. 3) High Contrast and Deep black levels – these two go hand in hand but you certainly don't want the picture to appear washed out. Good contrast and deep black levels prevents that.
One of the top models to be selected for the best TV to watch the Olympics on is the Samsung UN60ES8000 for which the company states, "This new technology, through edge lit and not full array LED backlighting, creates a finer more detailed picture by brightening areas of the screen with light. The effects are incredible and noteworthy and create a more colorful 3 dimensional image even from 2D programming."
Among the other Best TVs for Sports and the Olympics is the Samsung PN51E8000 for which the reviewers state, "The PN51E8000 51" Plasma TV retains the strong picture performance of prior Samsung plasma models and I would put it back in the area of 2010 when we gave the previous C8000 series a top score. Our complaint from 2011 was a dimmer/darker picture caused by a drop in power usage. This is somewhat addressed in the E8000 series though not completely."
There are a total of ten TVs in all recommended on the list.
About CEAG Inc.
Consumer Electronics Advisory Group Inc. operates several premier buying guide websites, including plasmatvbuyingguide.com, lcdtvbuyingguide.com, and 3d-tvbuyingguide.com among others. Online since 1999, the company provides objective and thoroughly researched information through professional reviews performed by seasoned reviewers. Editors Robert Wiley and Jack Burden have been reviewing televisions since the first commercial plasma TVs hit the market in year 2000. ISF calibrator John Wirtz has been calibrating televisions professionally for 10 years. The company adheres to strict testing guidelines using the highest caliber equipment. Company web sites have more than 15 million unique visitors each year in the fast growth consumer electronics industry.