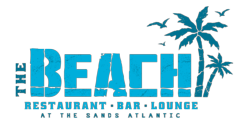 Long Island, NY (PRWEB) July 31, 2012
The Sands Atlantic Beach has been home to summertime fun and seasonal memories stretching back more than 50 years. This summer, the renowned beach club and event venue has opened its brand new restaurant, the Beach at the Sands Atlantic, offering outstanding waterfront dining on Long Island to not only members of the beach club, but the public as well.
Led by a team of chefs trained by master BBQ chef, Myron Mixon, the Beach's menu is packed with the best in Long Island BBQ from essential classics like ribs, briskets and chicken, to southern style sides like watermelon salad, coleslaw and corn muffins. The delicious BBQ is paralleled only by the beautiful views of the Atlantic Ocean, which guests can behold from a just a few feet away with the Beach's oceanfront dining option.
In addition to the opening of restaurant, the Sands Atlantic Beach has officially launched the Beach's brand new website. Offering guests the ability to make reservations online, an engaging blog and details about event catering on Long Island, the Beach homepage gives in-depth insight into the multi-faceted venue. An up to the minute Facebook feed on the home page will keep visitors updated on news about the restaurant and events happening after dark when the Beach restaurant turns into a night club.
Whether you come for the BBQ delicacies, live entertainment or just a cool, oceanside drink, the Beach at the Sands Atlantic will tantalize your senses. Located less than an hour from the heart of New York City, this brand new restaurant aims to set the precedent by which all other restaurants on Long Island are measured.
Visit the Beach at the Sands Atlantic at 1395 Beech Street, Atlantic Beach, NY, or call to make a reservation today: 516-371-4005.