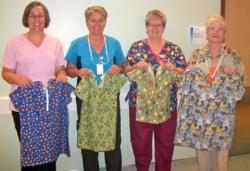 Whatever time I have to spare, I'm glad to help. Volunteering is good for your mental health. -Sylvia Johnston
Kemptville, Ontario, Canada (PRWEB) July 25, 2012
Having an x-ray or ultrasound at the hospital can be a stressful experience. You are in an unfamiliar place; you have to put on a hospital gown and then you are told to sit or lie still. Now imagine that you are four years old and you are having this experience. A caring volunteer at Kemptville District Hospital (KDH) found a way to make the situation better for kids by creating a set of child-size hospital gowns in a variety of colourful and fun patterns.
Teddy bears, whimsical cats, mice with wedges of cheese and a variety of balls for different sports are just some of the patterns that longtime KDH volunteer Sylvia Johnston chose for her designer hospital gowns for kids. They bring a smile to the face of everyone who sees them.
Having done "some" sewing before, when asked if she were interested in making some hospital gowns for children, Johnston said "sure". With a minimum order of 60, children's gowns weren't in the budget for KDH.
After downloading a pattern online, Johnston chose her fabrics then began to sew. She overstitched every seam so there will be no need of repairs to these gowns, ever. When Sylvia Johnston does something, she makes sure it's done right!
80 hours of sewing later, there were children's hospital gowns in two sizes: five for three-to-five year olds and two for tots two and under.
A member of the KDH Auxiliary, Johnston has been volunteering at the hospital for 10 years, currently dividing her time between assisting with events and visiting patients in the interim long term care unit and helping out at the hospital's popular coffee bar and gift shop.
Johnston began volunteering after retiring from a career in finance estimating for high tech defence. Having converted the family's former cottage in the Kemptville area into a fulltime home, she and her husband relocated. Johnston thought volunteering would be a good way to meet people. It proved to be a very rewarding experience. "Whatever time I have to spare, I'm glad to help," she says. "Volunteering is good for your mental health." Johnston has passed on her passion for volunteering to her four grandchildren, who give of their time in their community as well.
In addition to volunteering at KDH, Johnston is a volunteer quilter with both Victoria's Quilts Canada and the Kemptville Quilters' Guild. The former group makes quilts for people with cancer, and the latter benefits the community by creating quilts for children in need.
Although intended for use in the hospital's diagnostic imaging unit, the colourful gowns will soon likely find their way to the ER whenever kids are there. KDH is privileged to have volunteers like Sylvia Johnston.