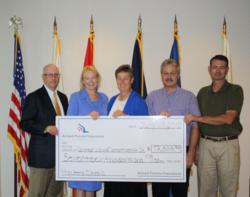 Leavenworth, Kan. (PRWEB) July 24, 2012
Armed Forces Insurance helped kick-off the annual fundraising activities for the United Way of Leavenworth County by participating in a dinner and auction event June 10, 2012 and hosting the 20th Annual Armed Forces Insurance Hackers' Classic golf tournament the following day.
The "Summertime" dinner and auction was held at McGilley Field House at the University of Saint Mary. The Hackers' Classic golf tournament was held at Trails West Golf Course. The combined efforts of Armed Forces Insurance, Commerce Bank, Kaaz-Lexeco, and the University of Saint Mary helped raise over $30,000, making it the largest fundraising event for the United Way in Leavenworth County.
"This was the sixth year for the auction and it was a great success. We appreciate the more than 150 persons who came out to enjoy the roast pork dinner and auction," said Nancy Bauder, Executive Director of United Way of Leavenworth County. The attendees bid on over 100 items donated by local businesses and sports memorabilia from the Kansas City Chiefs and area universities.
Sports celebrities from the Kansas City area along with corporate sponsors competed in the tournament. Sports celebrities in attendance included former Kansas City Chiefs tight end and current Ambassador Walter White, and Isaac "Bud" Stallworth, First Team, All-American basketball player for the University of Kansas and five year veteran of the NBA. The event, which has been held annually for the past 20 years, attracted numerous corporate sponsors, including Commerce Bank, Country Club Bank, Armed Forces Bank, and many others throughout the community.
"The United Way supports many organizations throughout Leavenworth County, as such it warrants and deserves our support." said Col. Tom Dials (Ret), former chairman, AFI. "The Hackers' Classic allows AFI to provide that support by hosting its annual golf tournament and serves the interests of the community, that's a win-win for AFI and the United Way."
About The United Way of Leavenworth County
The United Way of Leavenworth County is an independent not-for-profit community service organization servicing Leavenworth County residents in collaboration with diverse partners to assess and address the local needs of the community. Since 1956, United Way has worked with schools, government agencies, businesses, financial institutions, and community organizations to support more than 20 non-profit agencies in Leavenworth County.
About Armed Forces Insurance
AFI was founded in 1887 by military leaders with a single mission: to protect the property of those who protect our nation. The company provides premium quality, competitively priced property and casualty insurance to military professionals throughout the United States and overseas. Headquartered in Leavenworth, Kansas, AFI understands that its subscribers have unique circumstances and insurance needs, enabling the company to offer a level of personalized service that's unequaled in the industry. For more information, visit the website at http://www.afi.org or call 1-800-495-8234.