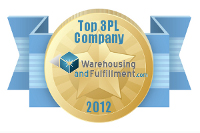 Anchor and its' staff are dedicated to delivering exceptional quality of service. We thoroughly understand that there is a great amount of bad fulfillment.
Boise, Idaho (PRWEB) July 25, 2012
Will Schneider, Founder and CEO of WarehousingAndFulfillment.com, announced today that Anchor 3PL, a Utah based fulfillment company, has been awarded "Top 3PL Company" designation for 2012. Each year, WarehousingAndFulfillment.com selects a handful of companies within the United States as Top 3PL companies based upon their respective quality of order processing, on time shipping and level of customer service. In particular, companies are evaluated based upon the ability to service the all important small to mid-sized market, which compromises a large and growing subset of the fulfillment market with very distinct needs.
The award selection process is very thorough, and includes a number of different criteria. Some of the factors considered include: order picking accuracy, percentage of on-time shipments, customer retention rate, customer reference assessments, degree of technology employed, existence of established procedures, competitiveness of fulfillment pricing, as well as any applicable external monitoring factors. "In all departments, Anchor 3PL garnered exceptional scores," noted Mr. Schneider. "We're pleased to announce their inclusion in our 'Top 3PL Company' designation and feel confident that companies choosing to use their 3PL service will not only experience great results but also find that the interactions with management and key personnel will be a breath of fresh air," he added.
Sam Souvall, CEO of Anchor 3PL, echoed the company's emphasis on the customer, stating that, "Anchor and its' staff are dedicated to delivering exceptional quality of service. We thoroughly understand that there is a great amount of "bad fulfillment", particularly those companies that focus on serving the small to mid sized business market. From pricing to execution to customer service, we've heard horror stories about how companies have been treated, and we've set up our business to provide a positive experience for our customers. Our model is simple – provide flawless order processing and develop a relationship with each customer that becomes a true partnership."