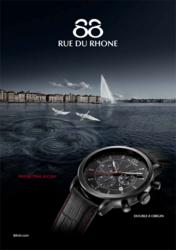 (PRWEB) July 25, 2012
88 RUE DU RHONE: this new Swiss watch brand's name echoes the famous and prestigious street of the same name on the banks of the river in Geneva. As for the number 88, this is nowhere to be found in reality, not on any door or luxury window. Actually, it's the only missing number in the Rue du Rhône… Just where number 88 should be, there is something much more precious: the view of the Rhône leaving Lake Geneva. It is precisely here on these banks that Swiss watchmaking was born five centuries ago. The watches of the Geneva brand 88 RUE DU RHONE identify with this tradition of age-old watchmaking excellence. However, conceived by successful young entrepreneurs in tune with the times, they have updated the reference codes. 88 RUE DU RHONE, WHERE TIME BEGINS.
The new brand's launch demanded a campaign capable of displaying all the wealth of its unique universe. Of course, Geneva's sublime lakeside setting had to be a main feature. However, in this context, it has been transformed by the city's unreal architecture in the background and the dusky twilight.
In the foreground, a sleekly elegant watch surges up from the depths of the lake. It belongs to the Geneva brand's very first collection, DOUBLE 8 ORIGIN. It draws all its strength from these waters brimming with life and history: including technical know-how, intricate detail and Swiss quality. Although an heir of the past, an 88 RUE DU RHONE watch is none the less fully anchored in the present, thanks to its contemporary, urbane lines. Its colors are true, its character is assured, like the brand name engraved on the crown and the outer rim of the case. Far from being weighed down under the burden of tradition, an 88 RUE DU RHONE watch is actually quite light-hearted. In an amusing as much as elegant way, it plays on the number 8, portraying it in endless ways: at 12 o'clock and 8 o'clock in place of an index, as a counterweight on the sweep seconds hand, on the case back, in a fine lacework or among the waves on the deep black of the dial. Matching the motif that resembles a guilloché finish, the somber surface of the lake comes to life just where a pair of white swans takes to the air, tracing a double figure 8, like an imprint left by the Geneva brand.
This is the beginning of its voyage: 88 RUE DU RHONE, WHERE TIME BEGINS.
For further information:
http://88rdr.com
http://www.facebook.com/88rdr
http://www.twitter.com/88rdr