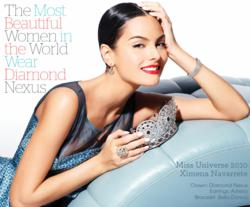 We all are honored to be assisting these talented young women as they pursue their dreams and show other young women how to excel and strive to greatness
(PRWEB) July 24, 2012
As official jewelers of the Miss Universe Organization, Diamond Nexus created the breathtaking crown for the Miss Teen USA pageant. "Our designers have incorporated almost 900 sparkling white and rose-colored diamond simulants in delicate arches and interlocking circles into the dazzling crown. These detailed elements symbolize the grace, strength and true friendship that the Miss Teen USA contestants have all shown in their lives," stated Kyle Blades, Director of Marketing.
"With such a tremendous emphasis on their studies and giving back through volunteering, we all are honored to be assisting these talented young women as they pursue their dreams and show other young women how to excel and strive to greatness," said Blades.
Being the first eco-friendly jewelers to have partnered with the Miss Universe Organization, Diamond Nexus joins several other top companies in supporting the Miss Teen USA pageant. Other sponsors include Farouk Systems, New York Film Academy, Sherri Hill, Rain Cosmetics, and West Surfing, all of whom support the goals and perseverance of the contestants.
Patrick Leahy, founder of West Surfing commented, "At West Surfing we place a huge importance on a fun, active and confident lifestyle. Miss Teen USA is a great platform to promote and grow this message. We are thrilled to be working with these incredible young women who are role models for girls nationwide."
Miss Teen USA 2011, Danielle Doty, will be co-hosting the preliminary show on Friday, July 27th. The following day, she will pass the Diamond Nexus crown on to the next Miss Teen USA.
Fans of the competition are able to cast votes for their favorite contestant and help the winner secures a place in the semifinals. Voting started on Sunday July 1, 2012 at 12:00PM ET and ends on Friday July 27, 2012 at 12:00PM ET. Votes are accepted up to 10 times per day per account/valid email address.
Place votes at this link: http://www.missuniverse.com/missteenusa/members/contestants
Diamond Nexus was founded in 2004 with the purpose of bringing to the public the powerful benefits of the lab-created diamond simulant revolution. They have over 250,000 customers worldwide that have awarded them an "A+" rating with the BBB, and are the ninth largest online jewelry retailer in America according to the 2011 IR500 list. For two years in a row brides from The Knot have selected them as their Best of Jeweler. Diamond Nexus currently has two retail locations: their flagship store at Woodfield Mall in suburban Chicago, Illinois, and a second store at Mayfair Mall in Milwaukee, Wisconsin. In 2009 the company was named the official jeweler and crown maker of the Miss Universe Organization as part of NBC/Universal's "Green is Universal" environmental initiative.