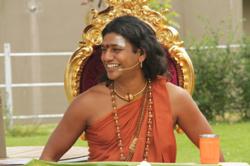 When the seeking is intense, it will remove the unwanted juice from your ego.
Los Angeles, CA (PRWEB) July 24, 2012
His Holiness Paramahamsa addressed his world wide followers in an early morning discourse on July 23rd 2012 from the sacred town of Tiruvannamalai which is considered as a spiritual nerve center of South India with 2000 years of recorded history of unbroken lineage of enlightened Masters.
Speaking on verse 18 from Bhagavad Gita Chapter 5, Paramahamsa Nithyananda said, "The Enlightened beings regard the Brahmana (the learned one), who is filled with spiritual knowledge a cow, an elephant, a dog and a dog eater with impartiality. Bhagwan breaks one of the greatest myths. One of the collective understandings that destroys the world and that which is destroyed by the world is partiality.
"It is always two ways, anything you destroy, destroys you and vice versa. So, the moment you start handling things with partiality, things also handle you with partiality. When you judge be ready to be judged. Handling things with right and wrong, good and bad is a huge collective myth. Partiality is one of the powerful maya (delusion in illusion).
"The sacred secret is partiality is myth in anything. The quality which you sometimes think as your strength becomes weakness in some other situation. The quality which you think as sweet at one point becomes sour in some other point. Other than concept of partiality, nothing else brings you so much of suffering to you.
"For example, the lawyer who uses his black coat and arguments in the court room, cannot use the same coat and arguments in the home with his family. Instruments and equipments and concepts used as tools for social living cannot be considered as a quality of your True self. Same way the partiality is a tool useful to handle life in few situations, but in no way, partiality is absolute reality.
"Bhagwan is very clear, partiality in existence is not absolute reality. So catch this one truth and meditate on this one simple truth. The greatest quality of super consciousness is Satchitananda. Satchitananda means consciousness, awareness that one exists and celebrating one's own existence."
On a side note, in spite of the smear campaign which a section of Indian media has been attempting on His Holiness Paramahamsa Nithyananda, participants from 18 countries successfully completed the 21 Day Inner Awakening Spiritual Retreat, which included yoga, meditation, talks, interactive sessions and spiritual leisure activities. A number of new kriyas (dynamic techniques) for physical and mental problems, traditional heavy yoga, ayurvedic holistic cleansing methods and personal guidance from experts in natural medicine were also offered as part of this retreat. They actively participated in several eNPrograms to achieve high success in attracting health, wealth, relationships, dynamic leadership. They were exposed to the true authentic Vedic rites and practices from directly ordained Sanyasis adept in Vedas and Vedic sciences which are much older than the human and Indian civilization itself.
eN-Genius, a natural leadership program for children between 4-14 years, was also conducted on the same premises. The program includes brain yoga, creative art, memory camp, Vedic chanting and outdoor activities, among others.
For more information on the next Inner Awakening Program: http://innerawakening.org/
For Paramahamsa's talk on "2012 - Truth Not Just Prophecy" : http://www.youtube.com/watch?v=5O68SCfXgBo&feature=plcp
About His Holiness Paramahamsa Nithyananda
Paramahamsa Nithyananda is a global leader in the science of Enlightenment & Inner Awakening. In the past ten years attempts have been made to map Nithyananda's brain, his energy levels, his mitochondria, his DNA. The scientific fraternity is continuously stunned by the results of what they can evaluate.
In a recent study, blood samples from a group of Inner Awakening participants aged above 50 years were subjected to a well-known protocol called MTT Assay for assessment of cellular energy levels. 100% of participants of this particular study recorded a drastic increase in energy levels, averaging 1300%. Such an increase is clearly impossible through any other known means such as exercise, yoga or fitness training, which can affect a maximum of 40% increase in cellular energy.
Clear, dynamic and modern in approach, Paramahamsa Nithyananda's teachings have already transformed 15 million followers in 150 countries with the fastest growing spiritual community around the youngest incarnation. He is the most watched spiritual Guru on the internet.
His Holiness Paramahamsa Nithyananda was recently appointed as the successor and 293rd pontiff of the world's oldest most ancient and richest Hindu organization, Madurai Aadheenam. Earlier this year he was recognized as one of the world's top 100 most spiritually influential personalities of 2012 by the reputed esoteric magazine 'Mind Body Spirit' from Watkins.