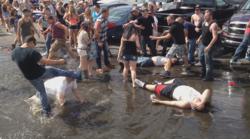 Marlton, NJ (PRWEB) July 25, 2012
For the second year, violence was reported by attendees of the XTU Concert. Last year, the concert erupted with violence and even left one Camden police officer with stab wounds after he attempted to break-up an altercation, according to the Gloucester County Times. This year, there was, yet again, chaos with more than 160 people sustaining injuries and approximately 200 people arrested according to this ABC News report.
Richard P. Console, Jr., a South Jersey personal injury lawyer recently filed a complaint on behalf of alleged victim John Sweeney against the organizers of the event alleging that they failed to provide adequate security for the attendees at the 2012 concert by not providing a sufficient number of security personnel and not removing visibly intoxicated and unruly patrons from the premises.
As a result of the alleged attack, Sweeney had to receive medical treatment according to court documents for a broken eye socket, a broken nose, a broken jaw, and other serious injuries requiring surgery to have metal plates implanted into his face. In light of the severity of his injuries, Sweeney contacted the Camden County personal injury attorneys at Console & Hollawell for help.
The alleged attack was caught on camera and using that footage the perpetrators were identified. A formal complaint was filed with the Camden Police Department and Sweeney turned over the identities of his assailants, the police have not yet made any arrests.
Console & Hollawell, P.C., serves injury victims throughout New Jersey and eastern Pennsylvania. Over the past two decades, they have won tens of millions of dollars for more than 4,000 clients, including victims of concert violence.
Camden County Superior Court Docket# L-3100-12