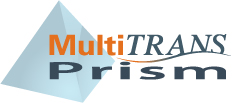 Gatineau, Quebec (PRWEB) July 26, 2012
MultiCorpora, an international provider of industry-leading translation technology solutions, has announced that its most recent release of MultiTrans Prism has been evaluated on TMS Live by Common Sense Advisory, an independent market research company. TMS Live is an interactive tool that provides buyers of translation technology with an interactive evaluation of best-fit tools to meet their requirements.
MultiTrans Prism 5.5 achieved high scores in key areas such as interoperability with other systems, business reporting, translation and web functionalities. Its total composite score jumped from 638 to 693 with this new release. "It is clear that the 55 point improvement is based on the addition of key features such as the Web Translation Editing Server, a new secure online working environment that solves outsourcing translation problems and a new business reporting module" says Pierre Blais, CEO at MultiCorpora
About MultiCorpora
MultiCorpora is an internationally established organization that is exclusively dedicated to the development and support of its flagship software product, MultiTrans Prism, for the translation industry. Its translation technology and unique expertise allow MultiCorpora to deliver state-of-the-art solutions for organizations who manage translation departments, outsource translation services, or who need machine translation or a terminology management database. With over 11 years of experience developing translation technology software, MultiCorpora is one of the few independent language technology experts in the world that has the experience, the capacity and the competency to deliver solutions benefiting buyers and providers of translation services. With offices in North America and Europe, MultiCorpora leverages the expertise of more than 275 clients for the benefit of its worldwide user community. Numerous international governments and organizations, Fortune 500 companies, and language service providers are currently benefiting from MultiCorpora's translation technology expertise.
For media inquiries contact:
George Stamatakos
Director of Marketing
MultiCorpora
gstamatakos(at)multicorpora(dot)com
http://www.multicorpora.com