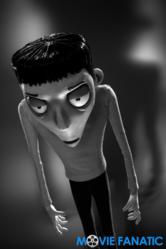 This movie may be Burton's best
(PRWEB) July 24, 2012
After creating such iconic masterpieces as the Nightmare Before Christmas, Beetlejuice, Edward Scissorhands and the more recent Charlie and the Chocolate Factory and Alice and Wonderland, Tim Burton has partnered with Disney studios to re-imagine one of his oldest projects: Frankenweenie. Inspired by the famous tale of Dr. Frankenstein, Frankenweenie promises to be a disturbing, yet lighthearted film about Victor, a child genius that brings his dog Sparky back from the dead. It is a reengineered version of a 30 minute, live action short by the same name that Burton made in 1984.
The Frankenweenie trailer pays homage to old timey horror film trailers calling to mind the fact that the film is an all black-and-white feature. The uniqueness of this film has already stirred quite a bit of excitement among movie lovers, as it harkens back to Burton's stop-motion style of movie making. It is a style that his more recent projects have abandoned much to the chagrin of many of his most loyal fans. And it has the distinction of being the first black-and-white feature as well as the first stop motion film to be released in IMAX 3D.
Luckily for Burton and Disney, those fans have found homes online that make it simple to court their interest. "This movie may be Burton's best," said Joel Amos, webmaster of Movie Fanatic, the internet's premier movie news and review site. "The Tim Burton aesthetic is one his most important contributions to the world of film, and this is just a continuation of that tradition. It's art of the highest form."
Disney has just partnered with Movie Fanatic to promote the film, giving the site exclusive content to share with their more than 400,000 Facebook fans and site visitors. "Many of the characters from the movie were kind enough to pose for us," Eric Hochberger, owner of Movie Fanatic, joked. Indeed, Disney has given the site exclusive images of its all puppet cast. "Disney chose to work with Movie Fanatic because it is the largest social movie blog with nearly 400,000 likes and more than 20,000 Twitter followers. We are honored to work with them, and are excited to let our readers see these amazing puppets in such detail. The images really are stunning."
The up close and personal images given exclusively to Movie Fanatic are the characters Nassor, Mr. Bergemeister (both voiced by Martin Short), and Mr. Rzykruski (voiced by Martin Landau). The vivid black and white shots put on full display the masterful artistry involved in making these incredible, distinct characters. Everything from the expressions in the eyes of the puppets to the tailoring of their lifelike clothing is perfect. "You really get a sense for the scope of a Tim Burton project when you see these characters so close up," Joel said. "They are lifelike, yet possess a sort of cartoonish quality about them."
In the meantime, while Burton fans are chomping at the bit to see this film, Movie Fanatic's incredible images will have to temporarily satiate the waiting masses. "We think that every Tim Burton fan will want to see these headshots and Movie Fanatic is the only place where you can see them," Eric said.