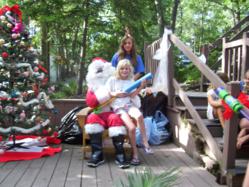 (PRWEB) July 24, 2012
Surf & Stream Campground in Toms River, New Jersey, celebrated its annual "Christmas in July" celebration this past weekend. The campground, which offers an array of RVs and tents, hosts a variety of extracurricular activities for its campers on a weekly basis, including: Elvis impersonators, hayrides, live music, children's film nights, kids crafts, parades, picnics and potluck dinners, among other activities.
This past Saturday, July 21st, the campground commemorated the sixth-month mark to the Christmas holiday with its "Christmas in July" celebration. The festivities included holiday decorations, a Christmas tree adorned with lights and ornaments made by campers, two visits from Santa, a gift-exchange among the residents of the campground, holiday music, food and entertainment. "We had a great turnout," states Ray Rimoldi, manager of Surf & Stream campground, "70 kids received gifts, Santa cooked pancakes for everyone and cake and ice cream was served to all." Rimoldi explained how the day began with young campers creating paper snowflakes and a variety of holiday ornaments, which were then used to decorate the campground, followed by two separate visits from Santa, one in the afternoon to distribute gifts, and another in the evening to cook pancakes for the campers, as well as a live band playing holiday music. "It was a success and everyone had a lot of fun," said Rimoldi, "we can't wait to do it again next year."
The next events at Surf & Stream campground include a kids craft day, a live DJ, and a hayride this upcoming weekend. The campground is located at 1801 Ridgeway Road, off of Route 571 in Toms River. It is conveniently located near Six Flags Great Adventure, Atlantic City and Seaside Heights. Call 732.349.8919 for more information or visit the campground on the web at http://www.surfnstream.com.