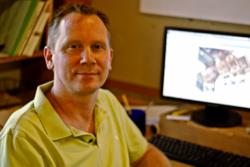 I'm eager to share my 3D modeling and design visualization experience with both my new colleagues and clients. New Energy Works is a quality company with highly crafted designs that I'm looking forward to being a part of
Farmington, New York (PRWEB) July 27, 2012
Scott Folts, AIA, LEED AP has joined New Energy Works Timberframers design department.
"I'm excited to work on heavy timber design projects," explains Scott, "and I'm eager to share my 3D modeling and design visualization experience with both my new colleagues and clients. New Energy Works is a quality company with highly crafted designs that I'm looking forward to being a part of."
As a licensed architect and LEED AP, Scott specializes in visualization of designs. He's an expert with Autodesk Revit, a three-dimensional design program, and has taught design to students at several local universities and colleges. His experience and enthusiasm for design and his technical visualization skills will greatly benefit homeowners and New Energy Works internal organization.
"We're glad to welcome Scott to our team," says Ty Allen, manager of New Energy Works Timberframers design group. "Beyond his primary skill set, his insights and technical capabilities will enhance all aspects of our design process and the final product. We're looking forward to sharing Scott's knowledge of 3D modeling, a step of every project that will make plans easier to understand, and will allow quick fine-tuning of design details. The new 3D models show accurate day lighting once the project's geographic location has been input. This is just one of many pieces of new information that, with Scott's guidance, we'll access through Revit."
New Energy Works Timberframers have been designing and building environmentally responsible timber frames across the USA for nearly 30 years from their facilities in New York and Oregon. Offerings include: Timber Framing (design, engineering, manufacturing, build), Enclosure Systems, Fine Woodworking, Recycled and Sustainable wood products. New Energy Works has two LEED AP staff members, is a member of the US Green Building Council and is FSC Certified.