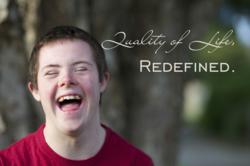 "The partnership with SimplyHome has enabled people with disabilities to live as we do, independently."
Asheville, NC (PRWEB) July 25, 2012
As Medicaid provider budgets become increasingly constrained, remote monitoring technology is emerging as a way to control costs and improve service outcomes. Supportive living environments can be managed by technology that detects potential problems such as falls, missed medications, cooking safety, and elopement.
The same support systems that allow staff to attend to individual concerns also enable consumers to live with greater choice and build skills of independent living. As funding sources realize cost savings through effective programs, they are able to serve individuals who would otherwise be on ever-growing waiting lists.
SimplyHome partner, The Charles Lea Center of Spartanburg, SC, recently celebrated the grand opening of its new Life Skills Center. An apartment within the training center is outfitted with SimplyHome technology.
"The partnership with SimplyHome has enabled people with disabilities to live as we do, independently," says Jeff Ballenger, the Charles Lea Center Sr. Director of Residential Supports. The Life Skills Center is a hands-on training facility that prepares adults with special needs for residential and community independence.
"We believe this is just the beginning of a shift in how providers will utilize technology in their service models," says Allen Ray, SimplyHome CEO. "The Charles Lea Center's willingness to be the front runner for the use of our technology in a program setting has allowed them to serve more people with the funds that are available."
The Charles Lea Center already partners with SimplyHome to provide technology in their residential support programs to enable independent living. The SimplyHome System placed in the Life Skills Center is an accurate replica of how technology is currently being utilized in their independent living program.
About SimplyHome
SimplyHome designs and installs wireless technology products and related care-focused services. The company is committed to promoting affordable and dignified solutions for independent living – specifically to aging and disabled populations nationwide. SimplyHome is known for its highly-customizable systems that are tailored to meet each customer's specific needs.
SimplyHome products and services range from voice-activated environmental controls (as shown recently on Extreme Makeover: Home Edition), Personal Emergency Response Systems, GPS watches, motion sensors, and stove monitors to Virtual Care Management® – SimplyHome's model for client care. SimplyHome is a 2012 Edison Award winner for "Best New Product."
For more information, visit: http://www.simply-home.com .
About The Charles Lea Center
For almost 40 years, the Charles Lea Center played an important role in the lives of thousands of Spartanburg county residents and it continues to meet the needs of individuals with disabilities, businesses and community members. The Center grew from an organization geared towards helping children with disabilities to an organization committed to helping people of all ages with special needs throughout their life.
It is the Center's mission to be the organization committed to supporting people with disabilities and special needs where they live, work and play. By offering residential options ranging from group homes to independent living; day habilitation and vocational training the Center is helping more 1,400 people achieve their dreams and improve their quality of life.
For more information, visit: http://www.charleslea.org.