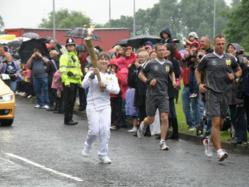 It didn't matter who you were or where you had come from but everyone came together at that moment to savour a piece of history"
(PRWEB) July 25, 2012
Nicola from Northampton has been involved in the S2R programme for 3 years covering sporting events in her school, community and nationally, such as exploring Silverstone Race track with fellow young reporters.
S2R has been motivating young people through sports reporting for five years, and is now an official London 2012 Inspire Mark project. To celebrate this incredible summer of sport, S2R have set young people a challenge to become Olympic and Paralympic Reporters by capturing their perspective of the Games and showcasing it on the S2R Network.
http://www.radiowaves.co.uk/s2r
As well as awarding the first 500 successful reports with a real shiny 2012 reporter medal to wear, over 13's can now also receive a digital badge, issued through the new Mozilla Open Badge system, which they will soon be able to display on their social network pages!
Nicola has been awarded her '2012 Reporter Medal' for her excellent report on her experiences as an Olympic Torchbearer. She ran with the torch on the morning of July 2nd in Wellingborough, Northamptonshire.
"It didn't matter who you were or where you had come from but everyone came together at that moment to savour a piece of history and the atmosphere they created was brilliant because everybody was cheering, waving and shouting your name just because they could"
You can read more about Nicola's experience here!
Nicola joined the S2R programme through the Northampton Study Centres, but has continued in her role as a reporter through various centres in the region. Her experiences have allowed her to develop her skills, work independently and support and mentor younger student reporters.
"I got involved with S2R 3 years ago because I liked sport and wrote articles at school; I have now learnt many skills in doing this project and it has improved my confidence in writing articles and interviewing people."
Nicola is pleased to have received her 2012 Reporter Medal, as it not only recognises her achievements as an Olympic Torchbearer but also a young sports reporter. Nicola described how S2R "helps young people learn new skills as well as attending the sport that they love and I think that lots more young people are becoming inspired because of the hype of 2012 Olympics and the reporter medals can add to this. If someone gets a reporter medal it means that they have done something to help the legacy of this Olympics and therefore it is a great project to be involved with".
Schools around the world can join the S2R Network for free to access teacher resources, competitions and a community of young sports journalists. http://www.radiowaves.co.uk/joins2r
Find out more about the '2012 Reporter Medals' here: 2012 Reporter Medals!