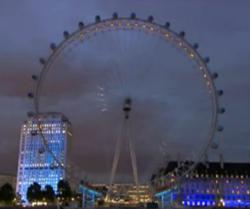 London, UK (PRWEB) July 24, 2012
United Press International reports that London's giant Ferris wheel will light up with colors each night to reflect the nation's feelings about the Olympics
According to the Telegraph, utility company EDF Energy commissioned a group of social media analysts to create an algorithm that tracks how Britain's tweeting public feels about the Olympic Games.
Each night during the Olympics, the sentiments of the nation's tweeters will then be reflected in a colorful light show from the London Eye -- yellow for positive feelings, green for neutral feelings and purple for negative feelings.
"The algorithm we developed converts real-time social emotions into colour and motion and then tweets to the light show. We distil 24 hours of action into a 24-minute visual concert that embodies the emotional peaks and troughs of the day," Sosolimited's founder Justin Manor told the Telegraph.
A British professor, Mike Thelwall, assessed the positivity and negativity of about 2,700 words and phrases, including "totes amazeballs" and "omg" to help measure mood.
The algorithm will track interest in specific Olympic sports and athletes, as well as positivity levels by location. (At the time of this post, Nottingham, England appeared to be feeling 100 percent positive.)
According to EDF Energy's Web site, emoticons and punctuation are also taken into account. Several exclamation points (!!!!!!!!!!!!!!), for example, will affect the score of nearby words.
The first Light Show took place last Thursday. You can watch it live here each night at 9pm London time.