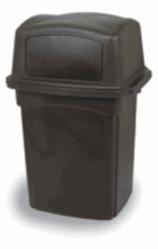 Macnhester, CT (PRWEB) July 26, 2012
Dawn Enterprises, elite manufacturer of site furnishings, has just announced it has added a new plastic trash receptacle to its product line. This new trash receptacle is called the Colossus and is designed to achieve maximum functionality and ease of Maintenance.
The Colossus Plastic Receptacle is available with four openings, or two spring loaded doors to fit your trash disposal demands. The Colossus Trash Receptacle is available in both 45 and 56 gallon versions. All Colossus models come equipped with cable lid stays and poly liner retainer straps. The Dual vinyl-coated cable lid stays hold the lid in a vertical position for safe, easy emptying, and help eliminate tipping of the base. The Lid option with the spring loaded doors features heavy duty door springs in order to keep the doors closed tight in order to keep odors in and pests out.
If you are looking for a heavy duty trash receptacle with various lid and capacity options then you should seriously consider the "Colossus" plastic trash receptacle. Dawn Enterprises also offers other plastic trash receptacles, as well as stone aggregate, metal and concrete trash receptacles. Bollards, benches, and tables are among other products that Dawn Enterprises has in their product line. For more information about Dawn Enterprises you can check out http://www.godawn.com or call one of their friendly sales representatives at 800-262-3296.