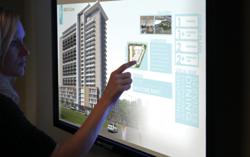 Our vision to make TouchTour the core of our clients' screen-based on site marketing strategy has been realized with this release
Denver , CO (PRWEB) July 24, 2012
Engrain (http://www.engrain.com), a leader in the development of integrated multi-touch, mulit-user, gesture-based touch screens for the luxury real estate market, today announced the newest release to the TouchTour line of products, TouchTour Enterprise.
This latest enhancement was driven by customer requests to be able to manage content and analytics across multiple properties from a single system and deploy property-branded touch screens quickly and cost effectively. The system includes tighter integration with the optional TouchTour iPad app, additional customization options and a new analytics dashboard.
The new TouchTour release also features a redesigned end user interface with a more intuituve and personalized experience. By leveraging the latest in touch technology from technology partners including Samsung, ELO, Ideum and Dynics, TouchTour includes new gestures with up to 40 on-screen touch points allowing for a more fluid experience and multiple simultaneous users.
"Our vision to make TouchTour the core of our clients' screen-based on site marketing strategy has been realized with this release," said Brent Steiner, Engrain's President and CEO. "The advancements in this version of TouchTour will appeal to our entire customer base for both their new developments and stabilized assets. This release includes better integrations, a simpler content management system and an end-to-end workflow resulting in a measurable ROI."
TouchTour will still be available for single property licenses and existing TouchTour users can upgrade to an Enterprise license, pooling their portfolio.
The new software licensing and hardware options have increased demand for TouchTour with Engrain recently adding several Enterprise clients to its roster and is in discussions with many more, representing thousands of units across the country.
About Engrain
Engrain is a design and development agency known for developing award-winning branding and technology platforms for companies in the real estate and new development sectors. Engrain also develops the TouchTour touch screens and iPad apps luxury real estate marketing system. Visit http://www.engrain.com for information.
For information, please contact Brent Steiner (brent(at)engrain(dot)com) or Shauna Klemme (shauna(at)engrain(dot)com).