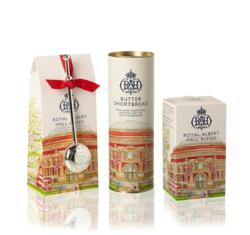 With a rich heritage and contemporary approach, Whittard perfectly matches the values of the Royal Albert Hall
(PRWEB UK) 25 July 2012
Whittard of Chelsea, producers of fine tea, coffee and luxurious hot chocolates, have recently signed a two-year partnership agreement with one of the UK's most treasured venues, the Royal Albert Hall.
Both brands are quintessentially British, pride themselves on their heritage, dedication to quality and continuous innovation, marking a perfect union! Whittard of Chelsea have created a selection of exclusive blends for the Royal Albert Hall which will also be available to purchase in Whittard stores across London and online, driving awareness of this partnership outside of the building.
An exclusive range of branded tea bags, biscuits and leaf tea pouches with silver plated infusers will be stocked in the Hall's retail shop and a selection of Whittard teas will be available to the 1.5 million annual visitors of the Hall in its bars and café. Whittard tea will also be served as part of a delicious afternoon tea offering in the Hall – a best of British treat!
The world famous Hall is a registered charity with no public funding. It focuses on achieving maximum public benefit by continuing to enhance the Hall's unrivalled history of performance on the world's most famous stage and commercially strengthening the building, offering all its customers the very best possible experiences.
The Hall has enjoyed a hugely successful year so far and the rest of the year promises to be just as exciting with the world famous Proms just around the corner. The collaboration with Whittard represents a new licensing partnership which the Hall can utilize to continue to strive to provide such spectacular experiences which are accessible to everyone.
Since humble beginnings in 1886, Whittard have retained founder Walter Whittard's philosophy of 'buying the best'. From one little shop on Fleet Street they have continued to grow, grow, sharing an innovative range and specialist knowledge across our UK stores, overseas and online.
Michelle Aland, Head of Sponsorship and Partnerships, said: "The Royal Albert Hall prides itself upon working with premium partners that complement our world class brand. With a rich heritage and contemporary approach, Whittard perfectly matches the values of the Royal Albert Hall and I'm delighted that this range of branded products will not only be enjoyed by our customers but by Whittard customers too. That represents a exciting new development for the Hall"
Fiona Robinson, Buying and Merchandising Director at Whittard of Chelsea, said "For over 125 years, Whittard of Chelsea has specialised in creating exciting, bespoke blends and sourcing the finest teas and coffees from around the world. We are extremely proud to be entering this new partnership with the Royal Albert Hall and can't wait to bringing the essence of Whittard to guests at the hall."
Note to Editor:
For more information, please contact:
Sean Carrigan- 020 7959 0531, seanc(at)royalalberthall(dot)com
Julia Holder- 020 7959 0512, juliah(at)royalalberthall(dot)com
Whittard press contact – Jennifer Kelly – Jennifer(dot)kelly(at)whittard(dot)co(dot)uk
Royal Albert Hall
The Royal Albert Hall is the world's most famous stage. Its breath-taking auditorium hosts over 370 shows a year by the world's greatest artists. The magical atmosphere combined with inspired artists creates legendary events. Opened in 1871 as part of Prince Albert's vision for a centre for the Arts and Sciences, and a registered charity operating without public funding, it remains true to his founding ambitions within a modern context.
Extending the brand with over 120 events outside the auditorium, the Hall has broadened its appeal to younger, diverse audiences whilst still engaging its existing customers. It actively works as an arts promoter and engages with partners to ensure that the events and performances inside its building create a platform offering access, education and opportunity in the arts. It works extensively with schools and young people through its Education programme, reaching over 30,000 participants each year.
For more information please visit http://www.royalalberthall.com
Registered charity no: 254543
Whittard of Chelsea
Established in 1886, Whittard of Chelsea is a renowned tea and coffee specialist. From one little shop on Fleet Street we continue to grow, sharing our innovative range and specialist knowledge across our UK stores, overseas and online. We're still the blending and tasting experts, offering you something truly unique, wherever you come into contact with us.

We have 130 varieties of tea, and still blend our own teas and infusions, just as Walter did.
We are one of the few places that will grind freshly roasted coffee beans to your individual tastes.
We have over 18 varieties of luxurious hot chocolate, tempting chocolate lovers with everything from White Chocolate and Strawberry to Chilli.
We believe that preparation and serving are all part of the enjoyment. So we sell specialist china, equipment and glassware alongside our drinks.