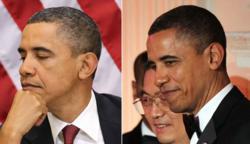 Sparta, NJ (PRWEB) July 24, 2012
While President Obama is pitching campaign donors and lamenting that the presidency has triggered his abundance of gray hair, Rise-N-Shine, LLC is determined to restore the president's image to his former hip and youthful self by sending him Go Away Gray, the all-natural pill that prevents and reverses gray hair.
The jury is still out on how presidential challenger, Mitt Romney, feels about his own salt-n-pepper hair. But this is America and by exercising Rise-N-Shine's patriotic rights as an all- American company, the easiest and best solution for combating gray hair is being offered to both candidates and their pesky silver strands. Be it a democrat, a republican or an independent, America agrees that the politicians on the presidential campaign trail should look vibrant, energized and youthful! And although a physical approval rating isn't what's most important in any election, proud Americans still want the leader of the free world to not only act the part, but to look the part too.
How much easier could preventing gray hair be while on an exhausting campaign junket? Simply take two Go Away Gray capsules daily and watch natural color gradually grow back from the root in approximately 6 to 8 weeks. What both contenders are respectfully unaware of and what many Americans already know is that the science behind this effective pill is the potent enzyme Catalase. This enzyme keeps naturally occurring hydrogen peroxide in hair in check, but decreases with age, resulting in a chemical reaction that causes hair to bleach itself from the inside out.
While both candidate's grey tresses may be nature's biological handiwork, nature can now reverse the gray safely with Go Away Gray's chemical-free formula. With continued use, the new growth of natural hair color happens gradually, and with the campaign trail heating up and election day closing in, now's the time for change for everyone. As a bi-partisan gesture and in the spirit of competition, Rise-N-Shine is offering both President Obama and Mitt Romney a lifetime supply of Go Away Gray.
Rise-N-Shine, LLC is a New Jersey based all-natural supplement company engaged in developing and selling proprietary, targeted supplements on the basis of meeting everyday needs naturally at http://www.goawaygray.com.
###