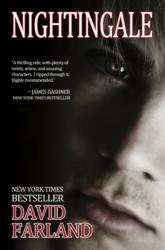 Saint George, Utah (PRWEB) July 26, 2012
David Farland's novel Nightingale has won four awards in the past eight weeks and is poised to become one of the biggest books of the year.
Nightingale took the Grand Prize at the 2012 Hollywood Book Festival, placing above all other books in all genres, both fiction and nonfiction.
Bruce Haring, the head of the festival, said, "It was apparent from the very first page to the last that this book would make a fantastic movie. Our judges were unanimous in their belief that this will soon come to film, and that it will be a huge, huge blockbuster."
Nightingale also won the International Book Award for Best Young Adult Novel of the year on June 1, won the Next Generation Award as one of the best young adult novels of the year at the end of May, and is a current finalist for the Global e-Book Award for best young adult e-book of the year.
Nightingale, set in Saint George, Utah tells of sixteen-year-old Bron Jones, abandoned at birth and raised in foster care. He's an aspiring artist, but is kicked around from home to home for being "too strange," until he goes to Tuacahn High School for the Performing arts and meets a marvelous teacher who recognizes that Bron isn't even human. He's what she calls a "nightingale," a member of an ancient species that leaves its young to be raised among mankind.
This news sends Bron on a quest to discover where he came from, how to use his unique abilities, and most importantly, precisely what he is.
Sometimes, it's better not to know.
The contest judges for the Hollywood Book Festival said, "Despite its fantastic premise, the book is a touching tale of the dreams and hopes of a young man abandoned at birth and making his way in the world."
Nightingale has been getting tremendous praise, even from such major #1 New York Times Bestsellers as Brandon Sanderson and Kevin J. Anderson. One fan described it as "High School Musical falls in love with Twilight and has Harry Potter babies," a description that made Farland chuckle. He says, "It's not quite like anything you've read before." Many reviewers, such as bestselling fantasy author Paul Genesse, are recommending it to fans Twilight and The Hunger Games.
David Farland is the New York Times bestselling author of the Runelords fantasy series, along with many other science fiction stories, which he wrote as Dave Wolverton.
He has worked with such major franchises as Star Wars and the Mummy, where he first began writing for young adults, but eventually found that he wanted to write something set in a universe of his own creation.
Farland has won many awards in the past, including the Philip K. Dick Memorial Special Award for Best Novel in the English Language (science fiction), and the Whitney Award for Best Novel of the Year (historical fiction). But he says that "This is the first time that I've won several awards for the same book, and it's a bit humbling, when you consider that thousands of books are competing for these honors. In a time where authors are struggling to get any space at all in the bookstores, it's nice to see the books gaining such good attention."