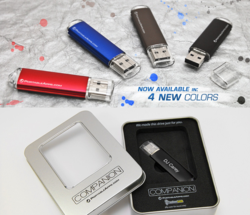 It's like carrying your whole desktop computer right in your pocket.
New York, NY (PRWEB) July 25, 2012
PortableApps.com, the world leader in portable software, and CustomUSB, a leading memory products manufacturer, have made the World's Best Flash Drive: The PortableApps.com Companion even better. This USB 3.0 drive combines incredibly fast components with a full suite of bundled portable software and wraps it in a durable aluminum shell laser-etched with the customer's name, company or message of choice. And it's now available in a choice of four great colors that all perfectly offset the laser-etching. It's backed by a best-in-class lifetime warranty and a no-hassle 30-day return policy. The drive ships in a custom tin, making it a perfect back-to-school gift. And with pricing starting at under $40, it's an amazing value.
"We spent years working with USB vendors to create a drive that we'd be happy to put our name on," said John T. Haller, lead developer of PortableApps.com. "CustomUSB really came through for us with a drive that looks and works great. The only problem I have is picking which color to use."
The drive includes PortableApps.com's award-winning software allowing users to carry their entire computer experience with them. Users can get free access to their favorite software including a complete office suite compatible with Microsoft Office, a professional image editor compatible with Adobe Photoshop, their choice of web browser, instant messaging, email, development tools, video players, tons of games and more, all right on their PortableApps.com Companion drive and use it on every PC they plug into.
"The software is top-notch. The platform is very intuitive and easy to use," said Vadim Molo of CustomUSB. "It's been a real pleasure working with John and the PortableApps.com team."
The PortableApps.com Companion is available in 8GB, 16GB and 32GB sizes for $39.95, $54.95 and $99.95 respectively. Custom laser-etching and a gift tin as well as your choice of color are included in the price. The drive is available for immediate purchase directly from http://worldsbestflashdrive.com/
About PortableApps.com
PortableApps.com is the world's most popular portable software solution allowing users take their favorite software with them. A fully open source and free platform, it works on any portable storage device (USB flash drive, memory card, portable hard drive, etc) or cloud drive and lets users carry their favorite desktop software with them and use it on any computer. With millions of users all over the world and a full collection of open source software as well as freeware and commercial software and partners in the software and hardware industry, PortableApps.com is the most complete solution for life on the go.
http://portableapps.com/
About CustomUSB
CustomUSB is a service oriented custom memory products manufacturer. In 2011 alone we produced more than two million USB drives for customers ranging from non-profit organizations to Fortune 500 companies. We also do project management and manufacturing for customers who are looking to create USB product replicas and USB based retail products. In December of 2011, we have launched a web store allowing customers to buy cool, high-capacity flash drives for personal use. We are also an exclusive custom USB flash drive supplier for SanDisk and PortableApps.com.
http://customusb.com/
Additional Trademarks
Microsoft Office is a registered trademark of Microsoft Corporation. Adobe and Photoshop are registered trademarks of Adobe.
Press Contact
John T. Haller (United States)
Phone: 646-289-5002 extension 2
E-mail: press_relations(at)portableapps(dot)com
###