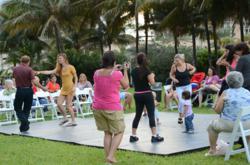 City of Sunny Isles Beach, FL (PRWEB) July 25, 2012
As a person gets older, it sometimes seems harder to find activities that meet ones needs and interests. In the City of Sunny Isles Beach, however, the Cultural and Community Services Department strives to offer an array of activities for the senior community that can suit every interest.
For the artistic in nature, we invite seniors to join our Poets and Writers Forum, which meets the 3rd Saturday of every month, from 1-4pm, at Pelican Community Park. Participants enjoy this opportunity to share their own talents publicly, or listen to others share. This cultural exchange is open to everyone, and audience feedback is encouraged. The City also offers musical concerts monthly (during season), at two major City parks, Heritage Park (19200 Collins Avenue) and Samson Oceanfront Park (17425 Collins Avenue). The next special concert is Wednesday, September 19, from 7:30pm – 9:00pm, at Samson Oceanfront Park. These concerts are free, and although dancing is encouraged, everyone is invited to attend, whether showing off their dance moves, or sitting back to enjoy the live entertainment.
Many residents enjoy staying abreast of current issues, and will appreciate taking advantage of the monthly Mount Sinai Lecture Series, offered at the Sunny Isles Beach Government Center, with lecture topics ranging from prostate cancer and heart disease, to lung cancer and cardiovascular health. The next lecture will be presented on Thursday, September 6th at 10:00 am. The event is complimentary but reservations are required to 305.674.2600. Other educational opportunities are available through participating in the Social Seniors group, which meets monthly as well, hosting various topics, including current events, historical events, musical performances, and much more. The next SIB Social Seniors meeting will be held on October 18th at 11:00am at Pelican Community Park.
The opportunities do not stop there. Residents can compete for cash prizes, gift cards, and merchandise playing Bingo the first and fourth Wednesdays each month, for a nominal fee of $2.00 per event day. Movie lovers can enjoy the Golden Era Series, every other month, where a Hollywood classic is featured. Admission is free with Resident ID card, and only $5 without. The next Golden Era Movie will take place on September 11th at Pelican Community Park. Call to reserve a seat!
For more information on how to stay active or to make reservations for any of these activities, contact Cultural & Community Services at 305.792.1706.