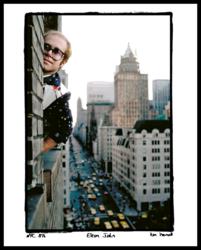 Beverly, Massachusetts (PRWEB) July 25, 2012
Kaminski Auctions is pleased to announce that it will feature five works by Rock & Roll Photographer Ron Pownall in its upcoming 20th Century Decorative Arts sale, this Saturday July 28th.
Although currently based out of Somerville, Massachusetts, Pownall began his career as a staff photographer for the Chicago Tribune. His first three assignments were Jefferson Airplane, Janis Joplin and Jimi Hendrix. He even photographed the 1968 rioting at the Chicago Democratic Convention. When Pownall moved to Boston, he became the New England assignment photographer for Rolling Stone Magazine. He worked for other magazines, as well as for Columbia, Epic, WEA and Capitol records companies. Aerosmith, Boston, The Cars, Meatloaf, J Geils Band, Queen and Liza Minelli, were among his band clients.
Kaminski Auctions will offer five of Ron Pownall's photographs: Ted Nugent at The Meadowlands, Rutherford, NJ, circa 1978 (estimated $1,600-$2,200), Bruce Springsteen at The Worcester Centrum, MA, circa 1984 (estimated $4,000-$6,000), Freddie Mercury at The Nassau County Coliseum, NY, circa 1977 (estimated $1,600-$2,200), Stephen Tyler in Tulsa, Oklahoma, circa 1978 (estimated $1,600-$2,000) and Elton John (estimated $1,600-$2,200) will be for sale.
The image of Elton John was taken on August 18, 1976 at The Sherry-Netherland Hotel in New York City. Taken using Kodachrome 64 film and on a Nikon F2 w/ 35mm f1.4 Nikkor lens, the photograph is printed on Fuji archival photographic paper and mounted in archival mat. The narrative included by the artist reads: "The shot was for Rolling Stone Magazine, during the absolute pinnacle of Elton's popularity and his record-setting 7 sold-out shows at Madison Square Garden. However, he was resisting all interviews…even for Rolling Stone! Because I was working with his L.A. publicist (who also handles Queen), I thought for sure I could get through…but nothing. (I was shooting all the shows at MSGarden at night, but the private, daytime interview was elusive.) I was camped-out with friends in Manhattan for a week…but finally, a breakthrough. Elton was a captive in his hotel. He was in The Elizabeth Taylor Suite, at the Sherry-Netherland Hotel on Fifth Avenue. Fans were jamming the lobby and on the street below his window. It was fan craziness at its wildest. He couldn't leave. (He did sneak-out the service elevator once in a laundry cart). In any case, the Stone writer, Cliff Jahr, and I, had a t-shirt made which said "Prisoner in NY" and sent it to the hotel. The next morning I got a call that "Mr. John would like to meet you at 2." Cliff and I were there promptly at 2, and interviewed and photo'd until 4…just the three of us for over two hours. The shot was meant to show, with so much hustle and bustle of Fifth Ave below, that Elton was still a prisoner in his castle. And, as we were taking the window shows, fans from the sidewalk, 14 floors below, were screaming up each time he leaned out the window. He was a delightful chap to shoot…quiet offstage, but absolutely energized when the lights hit the stage."
Several years ago, Ron Pownall pulled his images from all publications and television licensing. He felt they were too important, especially to those collectors who value fine music photography. The enlargements are available only to collectors on a one-print-at-a-time basis, and are printed on Fuji archival photo paper and matted with 8-ply museum-quality matte board. They are signed, have an Embossing Seal and a Certificate of Authenticity, which has details of the photo.
Kaminski Auctions is excited to offer such exclusive, limited edition, collectible photographs this Saturday. Bidding will commence at 10:00 AM at the Kaminski Auctions gallery, located at 117 Elliot Street, Route 62, Beverly, Massachusetts. For more information and to browse all lots of this sale, please visit us online at http://www.kaminskiauctions.com
Kaminski Auctions, located on the North Shore of Boston, has been serving the New England antiques market for over 25 years as a full service auction house and appraisal service for fine art, antiques and estates. With two locations in Beverly, Massachusetts, including a new state of the art auction gallery located at 117 Elliott Street, and a historic 1850's barn and office facility at 564 Cabot Street, Kaminski Auctions hosts 16 auctions a year. In today's highly competitive market of fine art and antiques, Kaminski Auctions provides its customers with bicoastal services and marketing with west coast offices in Beverly Hills and San Diego, California.Kaminski Auctions offers specialty departments in Asian Art and Antiques, Silver, Glass and Lamps, Couture and Vintage Clothing, Photography and Modern Design . We have highly trained and knowledgeable appraisers on staff that will help you determine the true value of your antiques, or entire collections. Free Appraisal days are offered every Tuesday from 10:00am-4:00pm at our 564 Cabot Street location in Beverly, Massachusetts.