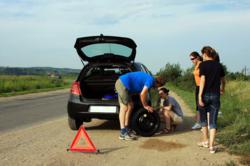 In many cases it's wise to just let a professional handle it even though it may seem simple enough.
(PRWEB) July 25, 2012
Knowing what to do in the event of a roadside emergency can make all the difference between things going smoothly and getting back on the road quickly and a situation that goes from bad to worse. Whether it's a flat tire, engine trouble, an illness, or inclement weather that forces a stop, stay safe and make the right moves with these simple safety tips from InsuranceHotline.com.
Mark off the Area
Reflectors, flares and the hazard lights flashing on the vehicle are all ways to make sure that passing motorists can see the car and the problem. Especially on the highway, where cars are approaching at a high rate of speed, it's vital that the site of a roadside emergency be clear and obvious.
Be sure that the car has an emergency kit that includes these items, and when it is safe to do so, set them out right away to mark off the area. Place them on the approach to where the car is located so they can be seen by traffic headed that way and the drivers can slow down and pass cautiously.
Wait for Help in the Vehicle
People standing around on the side of the road are in danger. Once the area is marked off and help is on the way, get back in the car and stay there. This is especially vital in winter conditions where staying warm is important – and other drivers will have low visibility as they approach the area.
Get out of the car only when help arrives on the scene, and only for the emergency assistance you have called for. Others may stop and offer their help. In some cases it might be ok, but it's always better to err on the side of caution and stay in the car until professional help arrives.
Work on the Vehicle Cautiously
If the roadside emergency is one that can be easily repaired, such as a flat tire, it will require that people be out of the car and on the roadside. Make sure the person driving the car is as visible as possible to approaching drivers. If possible, work on the side of the vehicle that is away from the passing traffic.
If the fix turns out to be more complex than anticipated, call for help and then wait inside the vehicle. "In many cases it's wise to just let a professional handle it even though it may seem simple enough," says Tammy Ezer of InsuranceHotline.com. It's safer to stay off the side of the road as much as possible.
Flag Other Drivers with Care
Cell phones have made it generally unlikely that flagging down help will be necessary, but sometimes they do fail. Whether out of cell range or a dead battery, if help is badly needed and there's no way to call, it may be required that you flag down help.
If another driver pulls over, ask them to either call for or go get help. Then wait inside the vehicle until help arrives on the scene. While the person who pulls over is likely a helpful passing motorist, there is no reason to take a risk. Ask them to go for help, and stay safe in the car.
Roadside emergencies are usually resolved without any issues. As long as everyone stays calm and behaves safely, the car will be back on the road quickly.
About: InsuranceHotline.com is a free online insurance rate comparison service that directs consumers to its large network of more than 30 insurance companies and licensed insurance professionals and provides quotes based on the lowest rates available through its network. In business since 1994, InsuranceHotline.com does not sell insurance, is not a licensed broker, and is not owned in whole or in part by an insurance company, agent or brokerage; ensuring consumers get a truly unbiased quote.