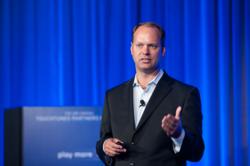 "Posiq is fundamentally changing the way restaurants think about generating revenue by syncing new CRM, mobile and internet marketing capabilities with the POS."
San Jose, CA (PRWEB) July 25, 2012
Posiq, the leader in restaurant customer relationship management (CRM), today announced the appointment of marketing executive Christian McMahan to its Advisory Board. The former CMO of Heineken USA and current managing partner at Smartfish Group brings more than 20 years of strategic-level brand marketing, advertising and social media expertise to Posiq's board.
Posiq provides customer relationship management capabilities to the restaurant industry with point-of-sale (POS) integrated CRM, and helps restaurants develop marketing strategies, promote coupons and offers through print and online marketing, as well as track how well marketing efforts worked with analytics. With deep experience in the beverage and hospitality industries, Mr. McMahan will complement Posiq's existing executive board as the company continues to expand its PosiqCRM platform across the restaurant and hospitality industries.
"Christian has an incredible track record leading the marketing strategies of widely known beverage brands, and has seen firsthand the need for creative – yet revenue-generating – focus and results," said Rick Onyon, founder and CEO of Posiq. "He has been a key player in the development of some of the most popular beverage brand campaigns over the last several years, and his keen insight into hospitality marketing will be a fantastic addition to our board."
"Posiq is fundamentally changing the way restaurants think about generating revenue. It allows restaurateurs to balance new mobile and internet marketing tactics while retaining familiar technology fundamentals such as the point of sale terminal," said McMahan. "I've been impressed with Posiq's innovation in the emerging restaurant CRM space, as well as with its remarkable growth. The decision to join their board was very easy."
McMahan was recently named Managing Partner at Smartfish Group, a newly launched marketing, creative and design agency born from the merger of Jackrabbit Design and DotGain Solutions. Prior to Smartfish, McMahan was CMO of TouchTunes Interactive Networks, where he led the marketing, music, and creative divisions for the music and digital entertainment company. Prior to TouchTunes, McMahan served as CMO of Heineken USA, a subsidiary of Heineken and the world's second largest beer company, where he was responsible for the leadership and communication of global brands including Heineken, Dos Equis, Amstel Light and Newcastle Brown Ale McMahan also served as vice president of marketing for global beverage giant Diageo where he oversaw the US strategy for brands including Guinness, Smirnoff, and Captain Morgan.
McMahan joins Posiq's current board members Rick Onyon, founder and CEO of Posiq; Don Albert, former VP & GM of the Americas and Advertising at Skype; and Joel Snyder, Managing Partner at IPOS Marketing.
McMahan holds a Bachelor of Science in Hospitality and Tourism Management from the University of Massachusetts. He sits on the Board of Directors & Executive Committee for the International Rett Syndrome Foundation as well as the Advisory Boards for social media pioneers Milyoni, Inc. and Likeable Media.
About Posiq
Posiq provides practical and relevant customer relationship engagement and management tools for the restaurant and hospitality industry. Posiq's innovative PosiqCRM software combines social, mobile and open cloud technologies with existing restaurant POS systems to improve understanding of customer behavior and preferences and create opportunities for increased revenue. Posiq delivers simple-to-use and effective POS-ready software to enable diner insights, promotional outreach, campaign efficiency reports and financial measurement.
Posiq was launched in 2011by Richard Onyon, a technology industry veteran – who also happens to own a successful restaurant & pub in San Jose, CA. You can meet the rest of the Posiq Team here, or follow us on Facebook and Twitter.