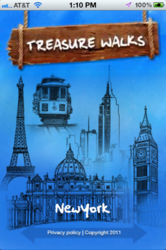 Treasure Walks turns exploring Central Park, Fifth Avenue, Times Square, the Brooklyn Bridge and more into a family-friendly game.
Charlotte, NC (PRWEB) July 26, 2012
NYCGO.com selected Treasure Walks New York as a favorite app in the NYC attractions category. The Treasure Walks New York app for iPhone offers users an interactive guide to explore Central Park, 5th Ave, Time Square and the Brooklyn Bridge. The app offers 3 great walking tours; embedded in each tour is a scavenger hunt.
Answer the challenges by finding a monument, a date, a special place. Questions are answered by text or by taking a picture. The app tracks your position along the tour route so you really can't get lost. If you miss a clue the app will even tell you to go back and look again.
If you want to take the challenge to the next step you can compete with other users to score the most points in the fastest time. If you just want to follow the walking tour skip the questions and amble carelessly.
When your walk is finished upload your tour to Facebook, it's like sending a postcard to your friends.
Another reason to choose Treasure Walks - It's the best deal in town.
Walking tours are expensive. $15 per person for a tour in London, $17 in New York and as much as $35 in San Francisco. A family of four can take 3 Treasure Walks tours in New York, San Francisco or London for $1.99.
Treasure Walks Apps for iPhone:
Treasure Walks New York: Central Park; 5th Ave to Time Sq; and Crossing the Brooklyn Bridge
Treasure Walks San Francisco: Haight Ashbury; Chinatown and Hitchcock's Vertigo Tour
Treasure Walks London: Royal Palaces and Parks; Tudor London and Westminster and the river.
Martin McConnell is Treasure Walks founder and Chief Walking Officer.