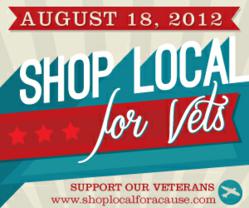 We've been supporting our troops and we thought this was a good cause.
Newtown Square, PA (PRWEB) July 27, 2012
TGGF is a non-profit honoring WWII veterans and educating children and adults about their service. This organization is also a featured charity with the NALA, (http://www.theNALA.com), a small business association, launching Shop Local for Vets, the first campaign from Shop Local for a Cause. The NALA provides local business owners business growth opportunities through sales and marketing solutions while connecting to well-run charity organizations. Newtown Square Liberty is one of many of the NALA's businesses throughout the country participating on August 18th.
Owner of Newtown Square Liberty, Lou Ferrara himself is Army Reserve and has employees having served in both the Navy and the Army. When asked why he chose to participate in Shop Local for a Cause, he said, "We've been supporting our troops and we thought this was a good cause."
Lou has been in the business for over 31 years, owns 3 gas stations and a repair shop and is celebrating his 5th year at Newton Square Liberty; a family owned and run business. In addition to participating in Shop Local for a Cause, he has been offering discounts during the month of July, with 10% of all repairs going to St Jude Children's Research Hospital.
Please visit Shop Local for a Cause to learn more or to find local businesses participating on Saturday, August 18th. TGGF also has a Text to Donate number; one can donate $10.00 to The Greatest Generations Foundation today, by texting TGGF to 20222.
About Newtown Square Liberty
A family owned full service gas station providing state inspections, emissions, diagnostic testing, brakes, exhaust and repairs. This gas station pumps full service gas at self-service prices.
About NALA™
The NALA (National Association of Local Advertisers), a small business association, is for local business owners offering new online advertising & marketing tools, great business benefits, education and money-saving programs, as well as a charity program.
Contact: the NALA
Tiffani Tendell
805.650.6121, ttendell (at) thenala (dot) com