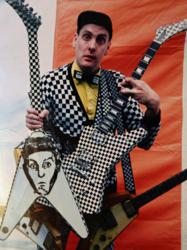 "Sure, it's a lot of guitars, but it's way more than that. It's my life. It's perpetual motion, magic potions, evolutions, false conclusions, harmonic fusions, full color illusions, black and blue contusions, diffusions and delusions..." --Rick Nielsen
Rockford, Illinois (PRWEB) July 25, 2012
Cheap Trick's Rick Nielsen and the Board of the Burpee Museum of Natural History invite members of the media to attend a preview tour and press conference for their new state of the art exhibit that is a fundraiser for the Burpee and tells the story of Rick's passions for guitars, music and Rock & Roll. Visitors to the Rick's Picks exhibit will experience a treasure trove of Rick's amazing guitars (as well as a selection of his famous friends' instruments), collectible personal items, stage clothing and Cheap Trick memorabilia, all enhanced by multimedia storytelling support.  
A virtual preview tour and Q&A with Rick, Burpee Museum officials and the exhibit creative development team is available for media that cannot attend the onsite press event. The virtual tour will be available online. The onsite tour and press conference will be held at 1pm CST. Please RSVP for either by contacting Brian Scranton (970-201-8570, bscranton(at)grahamspencer(dot)com) or Anne Boccignone (815-742-0110, aboccignone(at)grahamspencer(dot)com).
The exhibit opens to the general public on Saturday, August 11th, 2012.
WHO: Rick Nielsen, lead guitarist, Cheap Trick
WHAT: State-of-the-art guitar and music exhibit
WHEN: August 10th - Media Preview Tours; on-site tour and press conference at 1pm CST.
WHERE: Burpee Museum of Natural History, 737 North Main Street Rockford, IL 61103
For more information about the virtual tour, or to RSVP, please contact Brian Scranton (970-201-8570, bscranton(at)grahamspencer(dot)com) or Anne Boccignone (815-742-0110, aboccignone(at)grahamspencer(dot)com)