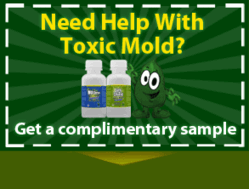 Works As Advertised, It works well for us. Had a really bad tub with mildew. Applied with some scrubbing and mildew came right off. No odors and harsh chemicals as stated. Highly recommended!
Miami, FL (PRWEB) July 25, 2012
Mold spores can grow anywhere there is moisture and a minimal amount of sunlight and can turn into toxic mold if it isn't taken care of in a timely manner.
Many homeowners have lost their homes due to toxic mold infestation where the toxicity of the mold was too dangerous for the residents to occupy. See how mold starts growing in the lungs.
Many mold remediation products assume the title of best mold killer but many of these brands are just bleach that has a new label on the bottle with a different name. Now there is a new mold killer called Molderizer that is 100% organic and kills mold spores and protects the area from the mold spores returning in the future.
MyCleaningProducts.com introduced their mold cleaning kit to professional mold remediation companies to insure mold spores were eliminated quickly and effectively. The formula was developed from natural ingredients from the earth and doesn't use any toxic or harsh chemicals such as bleach.
A representative of MyCleaningProducts.com states that Molderizer was the secret weapon that many mold professionals would use to kill mold and protect the home from future mold outbreaks. Now after licensing, Molderizer is now available to consumers as well.
Molderizer kills mold spores and protects with no evacuation needed. Molderizer is safe to use on all different types of surfaces and color patterns unlike bleach which makes it safe to kill mold on valuables without having to throw away any items that have sentimental value.
Discover how to get a Complimentary Sample and Webinar to learn how to get rid of mold like a professional