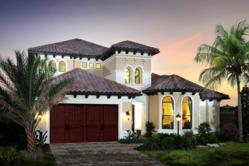 "Sabal Bay represents one of the finest development opportunities on the west coast of Florida and is a significant and important acquisition as part of Minto's strategic growth plan throughout the state."
Naples, Florida (PRWEB) July 25, 2012
Minto Communities announced today that the company has agreed to acquire a 2,300-acre parcel adjacent to the city of Naples, just four miles from the heart of downtown Naples, Fla. and 5th Avenue. The pristine property, currently known as Sabal Bay, has been under the stewardship of the Collier family for decades and has recently completed a comprehensive permitting and planning process. Collier Enterprises and Minto share a commitment to responsible development and preservation of sensitive natural environments.
The community will blend an ecological setting with hundreds of acres of lakes and preserve lands, all with convenient access to downtown Naples and Florida's most beautiful Gulf beaches. Land development activities are anticipated to commence in early 2013 with new model homes open in late 2013. The community will have over 1,600 homes.
"Minto has always been passionate about creating vibrant communities for inspired living. We have built some of the most outstanding resort-style communities in North America and we are honored to align ourselves with Collier Enterprises to create one of the most anticipated communities to be built in Naples. This is a very special property and a unique opportunity for Minto and we are confident that our proven attention to detail, our quality construction and our commitment to providing superior customer service will result in a very successful community," stated Bill Bullock, vice president of Minto Communities.
The vision for the community encompasses a private oasis for residents of all ages who choose an active lifestyle in magnificent natural surroundings. Homes will flank waterfront, densely forested areas and other scenic nature preserve expanses. There will be a variety of home styles and sizes available for sale all with innovative floor plans and designs. More than 50 percent of the development will be dedicated to natural habitat: a network of large lakes, acres of nature preserve areas and miles of natural hiking, biking, walking and kayak trails.
At the heart of the community and overlooking the vast lake system and preserves, the Resident's Club will be the hub of social activities with gathering areas, a resort-style oasis swimming pool, tennis courts and a full complement of fitness and health–related facilities. The development is contiguous to Hamilton Harbor Yacht Club, a designated Clean Marina, which features 160 acres of natural wetlands on the edge of Rookery Bay National Reserve. Hamilton Harbor Yacht Club offers complete marina services including wet and dry slips, storage, fuel and concierge services as well as a clubhouse with lunch and dinner service.
"This is an exciting acquisition for Minto Communities and this marks our third new community in the Naples market area this year," said Michael Belmont, President Minto Communities Florida. "Sabal Bay represents one of the finest development opportunities on the west coast of Florida and is a significant and important acquisition as part of Minto's strategic growth plan throughout the state."
Minto Communities has been building homes in Florida for more than 34 years and is part of the privately-held and family-owned Minto Group founded in Ottawa in 1955. Minto is currently developing and building in Naples, Tampa Bay, Orlando, the Palm Beaches and southeast Florida. With multiple customer satisfaction and most referred builder awards under its belt, Minto recently won first place in the Highest Percentage of Sales From Referrals – High Volume Builder's Category – in Eliant's 2012 Homebuyer's Choice Awards.
Minto found a like-minded entity in Collier Enterprises with its long-standing tradition as stewards of thousands of acres of Florida's most beautiful and pristine land.
"The preservation of the natural beauty that Collier County was founded on remains paramount in Collier Enterprises development goals today. We searched long and hard for the right Developer/Builder and are very pleased to share the hallmarks of our vision, careful planning, stewardship and sensitive development, with Minto. We look forward to creating a community that is as special and unique as the land that has been under our family's stewardship for so many generations," stated Patrick Utter, Vice President Real Estate, Collier Enterprises.
For more information, please contact Krista Farley at: kfarley@mintofla.com or visit the Minto website at http://www.mintofla.com
About Minto:
Launched in 1955, Minto is a family-owned business that has grown into one of North America's leading builders. With more than 70,000 homes built – 20,000 in Florida – Minto welcomes more than 50 families per week into a new home. Minto creates a wide array of award-winning new homes and resort-style master-planned communities, in addition to low, mid and high-rise condominiums to meet every lifestyle. The company has earned national awards and recognition from Leadership in Energy and Environmental Design (LEED). Additionally, Minto holds more than two million square feet of commercial space as part of its integrated real estate development, construction and management operations in Ottawa, Toronto and Florida.
About Collier Enterprises:
Collier Enterprises was founded in 1976 under the leadership of Miles C. Collier, grandson of Barron Gift Collier. Originally conceived as a real estate development firm, it has diversified and grown to include other investment activities but remains a private company. Investments are based on Collier Enterprises' independent research - and the company remains committed to its community and maintaining the quality of life that attracted Barron Gift Collier to Southwest Florida where he founded Collier County in 1923.
# # #