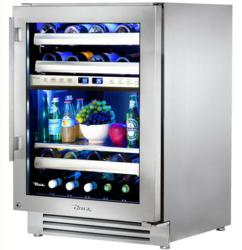 ST. LOUIS, MO (PRWEB) July 25, 2012
The new True Professional Series® Dual Zone Wine Cabinet is unlike anything else on the market today. With its industry-leading temperature control prowess the cabinet is designed to keep wines in peak preservation, while displaying them beautifully.
Like its namesake, the Dual Zone Wine Cabinet offers two independent refrigeration zones perfect for storing red and white wines at the ideal temperature. Each is maintained by True Precision Control™, with its steel touch technology and dual LED readouts, ensuring pinpoint accuracy anywhere from 38 to 65 degrees Fahrenheit (1.7 to 18.3 degrees Celsius).
"The two temperature zones are just the beginning of the story," notes True Director of Sales and Marketing Steve Proctor. "The True Professional Series® Dual Zone Wine Cabinet also features our patented TriLumina™ LED lighting, which transforms the ambiance of any space from bright white to warm amber or cool azure blue at the touch of a button without generating added heat. Our unique vibration-dampening racks and low-E, double-pane UV-tinted glass ensures the optimal preservation of reds, whites, rosés and Champagne."
The Dual Zone Wine Cabinet features industry-exclusive 300 series stainless steel inside and out, along with five glide-out racks and floor cradle, allowing the cabinet to accommodate up to 45 bottles. It is also the industry's only residential wine storage rated by Underwriter Laboratories, Inc. (UL) for both indoor and outdoor use.
Additional product features include:

TrueFlex™ shelving, allowing either zone to be converted to a beverage center.
Built-in lock.
The ability to connect to a home security system.
ABOUT TRUE:
For more than 65 years, True Refrigeration® has been an industry leader in commercial refrigeration. Today, True is the leading choice among top chefs, hotels and beverage providers. Building on this success, homeowners can now experience True Professional Series®, an authentic, commercial refrigeration line refined for the home, including: wine cabinets, refrigerators, beverage centers, refrigerator drawers and beer dispensers. The new series is crafted with the same meticulous attention to quality and detail that top chefs and sommeliers demand. For more information about True and its new True Professional Series®, please call 888.616.8783 or visit http://www.true-residential.com.